Airlines face "very serious challenge" because of soaring oil prices, says IATA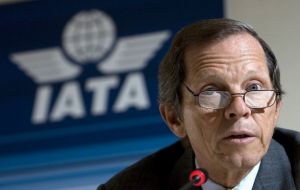 Surging oil prices due to political turmoil in the Middle East spell "very, very big challenges" for airlines, said International Air Transport Association chief Giovanni Bisignani on Wednesday.
"Oil is a big problem because it could change completely the picture" for the sector, the IATA chief told a press conference in Tokyo.
As the political turmoil unfolding in the Arab world continued to rock major crude exporter Libya, New York's main contract, light sweet crude for April delivery, rose four cents to 95.46 USD per barrel in Asian trade and Brent North Sea crude for delivery in April went up 22 cents to 106 USD.
IATA had already anticipated that airlines profits this year would be in the range of 9.2 billion US dollars which is at least 1.5% below 2010, based on a barrel of oil at 84 USD.
Given soaring oil prices airlines are forced to review estimates "since every US dollars increase has a major impact in the overall operating costs", since fuel represents 27% of airlines' equation.
Bisignani promised a full report for next week however sources close to the IATA chief talked on cost increases in the range of 1.6 billion in 2011.
But the IATA chief also had good news: last year was the safest in aviation history for passengers flying on Western-built jets.
The 2010 global accident rate was 0.61 per million flights, a rate equating to one accident for every 1.6 million flights, which is just below the previous historic low rate of 0.65 in 2006, and a "significant improvement" over the rate of 0.71 recorded in 2009.
There were 17 plane accidents -- or hull losses, in the lingo of the business -- involving Western-built jet aircraft in 2010, compared to 19 the previous year. A full loss is an accident in which a plane is destroyed or damaged beyond repair.
There were 786 fatalities in passenger aircraft compared to 685 in 2009, IATA said.
As in the past, there were significant regional differences in the accident rates, with North America having relatively low rates and Africa having the worst rate.
IATA said 2010 had the following results: 2.4 billion people flew safely on 36.8 million flights; 94 accidents for all types of aircraft -- Eastern and Western built -- compared to 90 in 2009; 23 fatal accidents for all passenger aircraft types, compared to 18 in 2009.