British court agrees to extradite Wikileaks founder Assange to Sweden
Thursday, February 24th 2011 - 16:44 UTC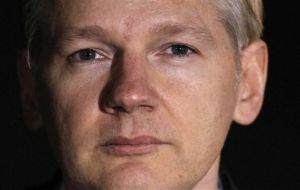 A British court has agreed to extradite WikiLeaks founder Julian Assange to Sweden where he is accused of sex crimes, dismissing claims such a move would breach his human rights.
Assange spoke briefly after the announcement was made known, saying that he "has not even been charged" as of yet.
Swedish prosecutors want to question Assange about allegations of sexual misconduct, which he denies, made by two WikiLeaks volunteers during his time in Sweden last August.
One alleges Assange, who has angered the US government by releasing thousands of secret US diplomatic cables on his website, sexually molested her by ignoring her request for him to use a condom during sex.
The second woman has said Assange had sex with her while she was asleep and that he was not wearing a condom.
Prosecutors say the second allegation falls into the least severe of three categories of rape in Sweden, carrying a maximum of four years in jail.
During three days of legal argument earlier this month, lawyers for Assange argued he would not get a fair trial in Sweden and said Swedish prosecutors had mishandled the case against the 39-year-old Australian computer expert.
They argued that he might wind up being sent to the United States where he could face execution.
Assange's lawyers also accused Sweden's Prime Minister Fredrik Reinfeldt of creating a "toxic atmosphere" in Sweden and damaging his chances of a fair trial by portraying him as "public enemy number one."
However, Judge Howard Riddle dismissed the arguments and ordered Assange be extradited although his lawyer said they would appeal against the decision