US/Argentina incident stalled: "we are waiting for a satisfactory response"
Thursday, February 24th 2011 - 07:31 UTC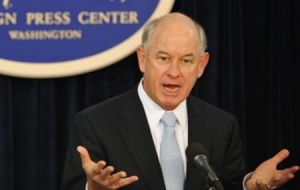 After the US Department of State official Philip Crowley tweeted that his country "wanted his (seized) stuff back," the Argentine Foreign Ministry issued Wednesday a press statement in which it assured that it still awaits "a satisfactory response" to the formal complaint sent to the US embassy.
The issue refers to Argentina's demand "of explanations that help them explain the presence of undeclared material" in the US Air Force plane that landed in the Ezeiza Airport early February.
The feud between Argentina and the United States over the impounded material continues as Mr. Crowley took to the social network Twitter to reclaim the equipment which is still being held by Argentine Customs.
Through his official Twitter account, he remarked the country's surprise after learning that the Argentine Government had chosen to neglect resolving "a simple dispute, which involves holding training equipment".
"We still want our stuff back," he closed.
Prior to this Crowley had already stated that the US, "had nothing to apologise for", and that the material had been impounded inappropriately.
While the case remains in court, the outlook on whether the material is returned or not is seemingly negative. The Argentine Government has considered the possibility of destroying the equipment.