In spite of racial diversity, European genetic ancestry predominates in Brazil
Monday, February 28th 2011 - 20:34 UTC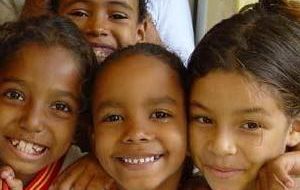 Contrary to expectations even when black and brown make up 52% of the 190 million Brazilians, --according to the latest census--, their genetic ancestry is more predominantly European than African or Indio-American.
A scientific study coordinated by the Federal University of Minas Gerais and which made a genetic scanning of 934 self-categorized White, Brown or Black Brazilians from the four most populous regions of the country, shows that the European ancestry on average is 60%, and can reach 80%, while the Indian input is not higher than 10% and black a few percentage points more.
In spite of the enormous regional differences in Brazil, almost a continent, 'Brazilian ancestry is quite uniform among European, black and brown", said Professor Sergio Danilo Pena.
"The surprise and the message from the report is that genetically Brazil is far more homogeneous than expected", he added.
Using a panel of 40 validated ancestry-informative insertion-deletion DNA polymorphisms the scientific group estimated individually the European, African and Amerindian ancestry components of White, Brown or Black Brazilians selected for the research.
"We unraveled great ancestral diversity between and within the different regions, especially, color categories in the northern part of Brazil diverged significantly in their ancestry proportions from their counterparts in the southern part of the country, indicating that diverse regional semantics were being used in the self-classification as White, Brown or Black", said Professor Pena.
But to circumvent these regional subjective differences in color perception the general ancestry proportions of each of the four regions was estimated in a form independent of color considerations.
"For that, we multiplied the proportions of a given ancestry in a given color category by the official census information about the proportion of that color category in the specific region, to arrive at a 'total ancestry' estimate; once such a calculation was performed, there emerged a much higher level of uniformity than previously expected".
In all regions studied, the European ancestry was predominant, with proportions ranging from 60.6% in the Northeast to 77.7% in the South.
The group proposes as a possible explanation that the immigration of six million Europeans to Brazil in the 19th and 20th centuries - a phenomenon described and intended as the "whitening of Brazil" - is in large part responsible for dissipating previous ancestry dissimilarities that reflected region-specific population histories.
These findings, of both clinical and sociological importance for Brazil, should also be relevant to other countries with ancestrally admixed populations.