Inflation challenges Brazil; tighter monetary measures anticipated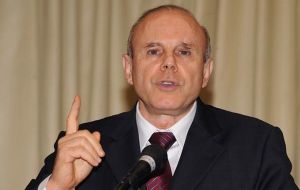 Brazil's general price index, or IGP-M, rose 1% month-on-month in February, compared to 0.79% rise in January, the Getulio Vargas Foundation said Friday. Economists' had forecast the index to rise 1.01%.
Year-on-year, the index grew 11.3%, almost in line with economists' forecast for a 11.29% rise.
During the month, the producer price index advanced 1.2% compared to 0.76% growth in January. The price index for finished goods rose 0.17% compared to 0.08% increase in the previous month.
The consumer price index grew 0.67% in February, slower than the 1.08% rise in the previous month. Housing costs grew 0.51%, faster than the 0.22% growth in January. Construction costs increased 0.39% compared to a 0.37% increase in the previous month.
With inflation becoming one of the main challenges for emerging economies, Brazilian Finance minister Guido Mantega was quoted by Folha de Sao Paulo saying that higher reserve and capital requirements are "more effective" at containing inflation than interest rate increases.
Mantega said he was "in favour" of higher interest rates when there is an "inflation problem". Consumer prices are under control and economic expansion has slowed, as expected by the government, Mantega told Folha.
Brazil's government is withdrawing all economic stimulus adopted during the global credit crunch to boost economic growth and "interest rates charged by the national development bank will increase", Mantega said.
The central bank, which resumed interest rate increases last month, increased capital and reserve requirements in December to slow credit growth and help rein in consumer prices.