LAN raises international air fares between 8% and 12%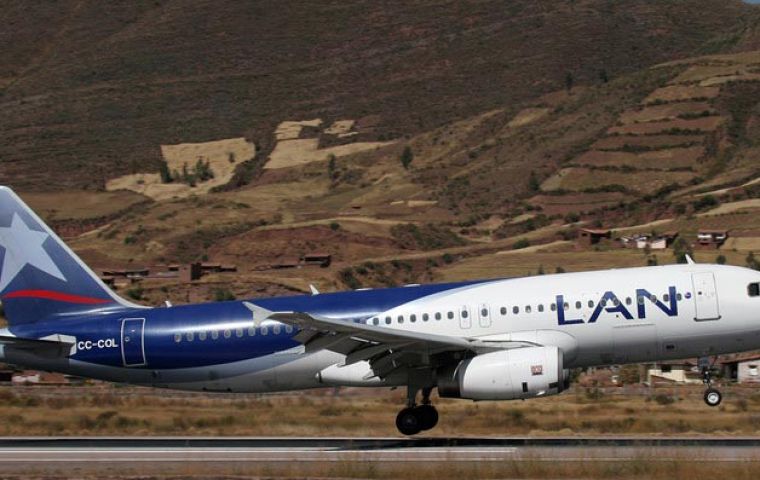 Chile's main airline LAN announced Friday it would raise its international air fares by between 8 and 12" because of higher global oil prices.
"Given the complex world scenario which is reflected in the high prices reached by oil, LAN is forced to implement an increase in air fares in international routes" said the Chilean flagship in a release.
Because of the Libyan crisis oil prices soared and reached 120 US dollars a barrel, although they later fell back on promises from Saudi Arabia to complete the possible fall from North African production.
Other world airlines have also announced increases in fares, both domestic and international.
LAN which reported earnings of 420 million US dollars in 2010, up 81%, is currently in the process of fusion with Brazil's TAM.
With LAN and TAM combined revenue of 8.5 billion US dollars in 2009 the newly formed regional giant that would emerge, Latam Airlines Group, would be among the top 15 airlines in the world and Latin America's largest airlines operator by revenue.
The LAN group with headquarters in Santiago also has local companies in Colombia, Ecuador, Peru and Argentina.
LAN is in the process of acquiring six Airbus 319s and two Boeing 767s for its Peruvian operations, an operation involving 660 million US dollars.
LAN expects to increase its domestic operations in Peru and also offer new international routes, such as direct flights from Lima to London and flights from Lima to Uruguay's capital Montevideo, announced Jorge Vilches, head of LAN's Peruvian unit.
In Peru, LAN currently has 19 Airbus 319s and eight Boeing 767s.
The Chilean carrier has plans to invest over a billion US dollars to incorporate 19 new aircraft this year, bringing its total fleet to 150.