Oil prices fall slightly Monday as Saudis confirm they are covering Libyan gap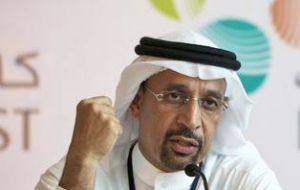 Oil prices fell on Monday in 'choppy' trading as expectations that increased production from Saudi Arabia can offset supply disruptions in the region allowed investors to pause after Libya's turmoil sent prices to two and half year peaks last week.
Some of the lightest trading volume of the year indicated investor weariness, but also helped make for volatile trading and wide trading ranges.
Foreign powers accelerated efforts to help oust Libyan leader Muammar Gaddafi as rebels fought government forces trying to take back strategic coastal cities. Protests spread to oil producer Oman but had not yet affected oil output from Gulf Arab sultanate.
Saudi Aramco CEO Khalid al-Falih told reporters the demand caused by violent unrest in Libya had been met.
Saudi Arabia is pumping around 9 million barrels per day and has spare capacity of around 3.5 million bpd, a senior Saudi source said, confirming a figure given by an industry source last week.
Brent crude futures for April fell 34 cents to settle at 111.80 USD a barrel, well off its 114.50 intraday peak. But Brent still finished 10.68% higher for the month, its biggest percentage rise since May 2009 when prices jumped 29%.
Brent's premium to its US counterpart remained nearly 15 USD a barrel, but has narrowed from last week's record spread of 16.91. Brent's price rise has been stronger because Europe is more vulnerable to supply disruptions from Libya and the region.
U.S. crude fell 91 cents to settle at 96.97 USD a barrel, slipping after reaching a high of 99.96 USD intraday. US crude posted a 5% monthly gain, biggest since December 2010.
Total US crude trading volume was above 512,400 lots, 45% below the 30-day average of 929,140 lots, according to Reuters data. Brent's volume just topped 396,300 lots, 22% below the 30-day average.