Car sales soar in the US during February, particularly GM and Toyota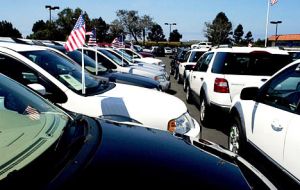 Sales of new vehicles jumped markedly in the United States in February, with sales by the world's two biggest automakers up the most.
Japan's Toyota, the global leader, said it sold nearly 142,000 vehicles last month, a 42% increase over the same month a year ago. Meanwhile, US-based General Motors, second in the world, said it sold more than 207,000 vehicles in the US in February, which is a 46% jump.
With signs the U.S. economy is slowly improving, other automakers also reported robust sales. Ford said its sales were up 14%, with Chrysler reporting a 13% gain and Nissan a 32% increase.
GM emerged from bankruptcy last year and has nearly overtaken Toyota as the world's biggest auto manufacturer. It has trimmed the line of models it offers customers in an effort to streamline its operations. Its February sales total was partly boosted by the company's use of various sales incentives.
Analysts say the improving U.S. economy has given some buyers a better sense of security that they will not lose their jobs and can afford to make a big-ticket purchase like a car.
One GM official, Don Johnson, said the sharp rise in the price of oil caused by the political turmoil in the Mid-east has not had an impact on car sales so far. He said rising gasoline prices facing US motorists, however, could eventually affect sales and shift demand toward more fuel-efficient models.