Argentina fish landings decline by 30% in first two months of 2011
Friday, March 4th 2011 - 22:23 UTC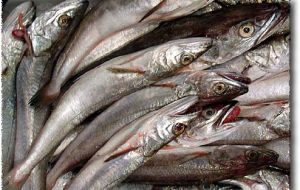 Argentine fish landings during the first two months of 2011 have dropped 30.4% compared to a year ago totalling 50.749 tons against 72.819 in 2010. Of the total volume, 40.632 tons were fisheries, 5.995 tons, molluscs and 4.121 tons crustaceans, according to the country's Under Secretariat for Fisheries and Aquaculture.
The highest recorded landing in the period was for hake (Merluccius hubbsi), with 16.850 tons, which is 19.1% less than the same period a year ago. Squid (Illex argentinus) followed with 5.696 tons, 69.8% less than in the first two months of 2010, with 18.859 tons.
Landings of hoki (Macruronus magellanicus) totalled 3.160 tons, stingray (Potamotrygon brachyura) 2.208 tons, haddock (Genypterus blacodes) accounted for 1.768 tons and croaker (Micropogonias furnieri) 1.290 tons.
Other landings include 1.135 tons of flounder (Paralichthys patagonicus); 1.092 tons of stripped weakfish (Cynoscion striatus); 623 tons of smooth-hound (Mustelus schmitti); 561 tons of Southern cod (Salilota australis) and 391 tons of sea-bream (Pagrus pagrus).
Regarding molluscs, 266 tons of scallops (Zygochlamys patagonica) and for crustaceans, 4.086 tons of shrimp (Pleoticus muelleri), which is 83.2% higher than the same two months of 2010 (2.230 tons).
Mar del Plata in the province of Buenos Aires remains the main landing harbour with 31.773 tons of seafood, followed by Puerto Madryn (Chubut) with 5.402 tons; Rawson (Chubut) with 4.920 tons and Puerto Deseado (Santa Cruz) with 4.334 tons, among other port terminals.
The fleet with the highest level of catches in the two first months of 2011 was that of large fresh fish vessels with 21.383 tons. Ranked behind were trawlers with 11.694 tons; coastal vessels 10.978 tons and Argentine flagged jiggers, 3.917 tons, among others.
Source: FIS