Peru and EU to sign free trade agreement in mid March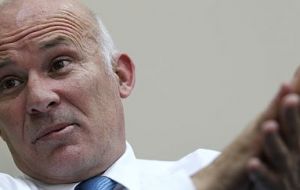 Peru and the European Union will be signing the final documents for a bilateral free trade agreement (FTA) in mid March, said Peruvian Trade and Tourism Minister Eduardo Ferreyros in Lima.
"We will sign the final documents in mid-March during a meeting between the chief negotiators from Peru, Colombia (who also negotiated a FTA with the European bloc), and the European Union," said the minister to Andina news agency.
Furthermore, Ferreyros noted that the European Union has become a very important trade partner for Peru as export projections and capacity are greater with the come into force of the trade agreement.
In February 28th 2011, Peru and the European Union concluded the negotiations to reach a Free Trade Agreement (FTA) after nine rounds of negotiations.
The head of the European delegation in Peru, Marianne Van Oteen, assured that Peru and the European Union will sign the agreement during March.
The European Union accounts for 20% of the world trade, and is considered the first exporter to the world and the second importer.