Argentine thieves empty a house but take pity on victims and return a puppy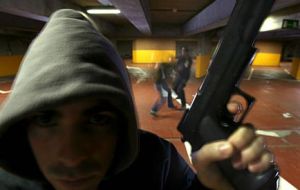 Some thieves took pity on their victims and returned a puppy taken along with other loot from a house on the outskirts of Buenos Aires, the Argentine press reported.
Leticia Ramos, who had been distraught for a week over the fate of her puppy, said she was overjoyed at the return of the cocker spaniel.
Someone left the puppy inside a bag at the door of Ramos's house in Berazategui, a city in the Buenos Aires metro area.
"I was going to give him away, but now I'm going to keep him. Several puppies were born and we couldn't keep them, but he is going to stay at home," Ramos told the daily Cronica.
The theft of the puppy got wide coverage on Argentine television, which carries report after report each day about the high level of crime in Buenos Aires and the populous urban area around Argentina's capital.
Ramos and her two daughters, ages 13 and 16, were robbed by three men, who ransacked their house, stole their car, took about 3,000 pesos (nearly 750 USD) and made off with the puppy.