Chile's Concha y Toro acquires California's Fetzer Vineyard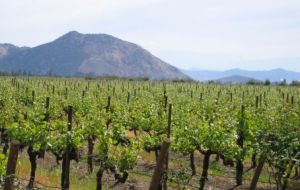 Chile's Concha y Toro, Latin America's largest wine producer, sealed a deal this week with Brown-Forman's Fetzer Vineyards in a transaction worth 238 million US dollars to purchase its portfolio of American wine brands. The sale is expected to close in April 2011.
The acquisition includes the bottling facility and brands Fetzer, Bonterra, Five Rivers, Jekel, Sanctuary and Little Black Dress, as well as 1,060 acres of vineyards in Mendocino County, and wineries with production capacity of 9.5 million gallons in Hopland and 1.58 million gallons in Paso Robles, California.
Brown-Forman is one of the world's leading producers and distributors of premium alcoholic beverages. Its Fetzer wine is one of the top ten brands by volume in the U.S. market with sales of 2.2 million cases per year.
Bonterra, its premium organic wine, sells 300,000 cases annually, three times more than the nearest competitor in the organic-wine field.
Altogether, Brown-Forman's wine brands represented volumes of 3.1 million cases and net sales of 156 million USD in 2010.
According to Eduardo Guilisasti, chief executive officer of Viña Concha y Toro, "The Fetzer acquisition is the largest transaction of this type in the company's history. It represents a continuation of our business strategy, which has been carried out successfully over time and enabled us to enjoy steady growth. We believe that this transaction opens additional growth opportunities globally, as well as in the American market."
Concha y Toro's exports of bottled wine in 2010 totalled 592 million USD, an increase of 3.8% from a year before. Exports primarily went to Europe (51.5%), the U.S. (16.2%) and South America (8.3%).
The acquisition follows the publication Monday of reports by stockbrokers Celfin and Banchile that wine prices in the local Chilean market rose approximately 20% in the last 12 months. Price increases were attributed to the strengthening of the Chilean peso versus the U.S. dollar, and the growing cost of supplies, primarily grapes, in 2010.
Concha y Toro increased the domestic price of wines by 20.2% in the last quarter of 2010. Local consumers also had to pay 17.8% more for wines produced by Chilean competitor Santa Rita in the same period.
By Juanita Chacón-Snow – Santiago Times