Falklands' second visit for Argentina's 'Rugby without borders'
Tuesday, March 8th 2011 - 23:44 UTC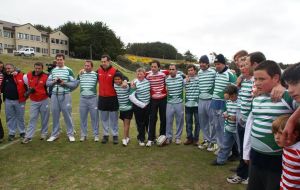 Scheduled to arrive in Stanley, Falkland Islands on Saturday are members and supporters of Rugby Without Borders Foundation, an Argentine non-profit organisation aimed at using sport as a way of reaching out to people and creating friendship, love, trust and peace.
Speaking on the phone to Mercopress from his home in Buenos Aires, Juan Bautista Segonds, founder of the Foundation categorically denied that the visit to the Islands has any political backing whatsoever: "We are a non-political, non-governmental NGO and our only message is one of peace for children, to teach them values and offer them friendship through sport. We are going to the Islands with a rugby ball as our only tool. We have absolutely nothing to do with politics or politicians."
Twenty adults with the aim of teaching rugby and sharing experiences and building bridges through sports, all current or former rugby players will be part of the group. There will be no children on this visit.
"We've heard there is general upset in the Islands because we are visiting, this is because of the governments. In fact, we have been told not to come. People there don't trust us. We can understand them after everything that took place nearly thirty years ago. We want to gain their trust and offer them peace, through sport," explains Segonds.
Because of the unrest in the Islands regarding the visit, the group has decided not to take any children with them on this trip.
However, the group hopes to return, with about ten to fifteen children, possibly in December and to keep going back.
"Through sport I want us to look ahead, the past if over and done with, we don't want to send our kids to war, it's up to politicians to discuss the things that they are concerned about and all we want to do is play rugby peacefully. All we ask is that we be allowed to play rugby, for an hour or so, on one of the playing fields," Segonds added.
"We have had lots of contact from Argentine politicians offering us money, and we tell them all that we are a non-profit, non-governmental organization and want to give children values and peace. We have nothing to do with politics," he emphasised.
Rugby Without Borders first visited the Islands in September 2009 to establish initial contact with the schools and Islanders and returned in December 2009 with 34 people.
"At first they were not welcome but then some people expressed an interest on us when they saw we just wanted to be friends and play sport. I don't really understand why the Islanders don't want us to return. We don't want to upset people, we want to spread the message of peace and love, we won't say either the Falkland Island's or Malvinas, nor carry any flags, because we don't want to hurt anyone. We don't know what we have done to upset people, I wish someone would tell us and tell us what we can do to make things right," added Segonds.
Told by Mercopress that maybe the Islanders attitude towards them comes from the lack of trust towards Argentines following the 1982 invasion by Argentina and other things which have occurred over the years since then, Segonds said, "I understand that, it's logical. We are only 40 minutes away (by aeroplane) and we don't want to argue, but look ahead. The war was a huge mistake, which could have been avoided, but we now have to look forward and we need a relationship of love and peace."
"I don't criticise the Islanders, they have had a tough time. But we will go there time and time again, with our kids to play rugby. We are not going there to manipulate people, as has been said, because we took chocolate and t-shirts with us for the kids. Whenever I go somewhere I take small gifts for children and that's what we did, it's the same as I do when I go to visit my nephews and nieces."
Mercopress asked Segonds if he did not wish to cancel the trip because of the negative feedback he has been receiving from the Islands: "I feel I don't want to go, I have a bad knee, which is one of the symptoms I have when I am under stress and I don't feel too well, but we are an instrument of God and this is our path," he said.
"All of those who are going on the trip pay their expenses themselves. It's a big effort as the trip is expensive. The foundation does not receive money to pay for trips. The adverts you see on our website are mostly advertising barters and we receive goods and help with logistics in return. In the case of some foundations they give us some money to help build a house or something like that, but nobody, expect for us are paying for the trip,"
Rugby Without Borders was set up by Segonds a couple of years ago, following what he refers to as the "great moral crisis" in the world. Its aim is to teach rugby to underprivileged children and to use rugby as a way of reaching out to children and showing that sport can provide other things. "It's not a whim, it's a mission, some people find us inspiring and are motivated by us," Segonds says.
Recently the foundation has built a house for a poor child suffering from leukaemia, visited the Chilean earthquake victims and held a rugby match at the site of the 1972 Uruguayan rugby team plane crash in the Andes Mountains.
The rugby group will be carrying with them letters from Argentine school children to children in the Islands, most of them from the Baldomero primary school on the outskirts of Buenos Aires city. The letters are in both English and Spanish and the group was approached by a school teacher who heard about our trip and asked us if they would take letters and the group agreed.
"There are some 14 million people in Argentina who pay their taxes and want to live in peace and their kids to be noble. The government we have is what we have, they were voted for by many people, we can't change that. We can only do what we know best and that is to offer peace through rugby," he concludes.
By Alejandro Sangenis - Press officer of "Rugby Without Borders" for Mercopress