Kirchnerites' deny any intention from Cristina to run for a third period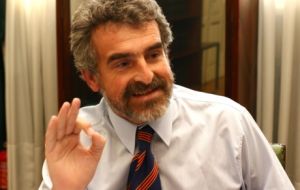 Political associates reiterated that there are no intentions of Argentine president Cristina Fernández de Kirchner to seek for a third period if the Head of State should end re-elected on next October presidential elections. For such purpose a constitutional amendment would be needed.
"No one within the government is considering a constitutional amendment", head of Mrs. Kirchner's Victory Front in the Lower House Deputy Agustin Rossi said during a round of radio interviews in Buenos Aires.
Rossi's words came to deny the claims of the Victory Front's Deputy Diana Conti, who hinted the alleged intention of the President to extend her stay in power even after 2015 in case she wins next presidential elections.
Rossi, remarked that "the President was clear during the inaugurating speech of Congress' ordinary sessions. She is not seeking for a second re-election"
In related news Interior Minister Florencio Randazzo confirmed that the open and mandatory primary elections to nominate presidential candidates "will be held on August 14," adding that the law that habilitated those elections "is absolutely" in effect.
"The primary elections will take place on August 14. Some have mentioned (factors such as) voter participation, institutional quality, and they're opposed. The law is absolutely in effect," said Randazzo.
He went on to say that "a campaign focused on information regarding the primaries" will begin "within the next few days."
While speaking to the media, Randazzo reiterated that "the best thing that could happen to Argentina is for Cristina (Fernández de Kirchner) to launch her candidacy for president."
"The decision will likely be made at an opportune moment. We've been saying that the best thing is for her to be president again. It's a decision she hasn't made yet. Ideas, proposals, all of that is absent from the opposition," he said.
Also, he predicted that "the (opposition) Radical sector is going to be a failure" because "it doesn't motivate anybody, just like the Federal Peronism" sector.
Finally, Randazzo said that the idea of allowing another re-election for Fernández de Kirchner is "nonsense. There's no chance. I think it's trivial, discussing a second re-election. They're trying to distort the real motives behind this government's agenda," he added.