China working to become a leading defence-industrial power, says British report
Monday, March 14th 2011 - 06:45 UTC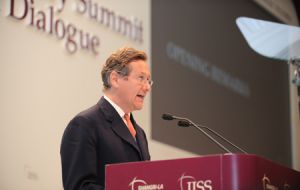 China has set its sights on joining the ranks of the world's leading defence-industrial powers, amid growing concerns in India over Beijing's recent assertiveness and its change in policy towards New Delhi's row with Pakistan over Kashmir, according to a top UK think tank.
"China possesses many of the vital ingredients for success as world's leading defence-industrial powers - ample funding, strong political support and selective access to foreign technologies," The International Institute for Strategic Studies (IISS) said in its Military Balance 2011.
Releasing the think tank's annual assessment of global military capabilities and defence economies, Dr John Chipman, Director-General and Chief Executive of IISS, said: "The new-found dynamics in China's defence industry contrasts sharply with its struggle for survival only a decade ago."
"It suffered a prolonged downturn after China's economic reforms began in the late 1970s, when defence spending was sharply curtailed in favour of economic development," Chipman said.
He said this situation "was exacerbated by the unwillingness of conservative defence-industry leaders to reduce enormous waste, inefficiency and widespread obsolescence."
The IISS report said Indian security officials are concerned by what they see as China's recent assertiveness in the two countries'' long-standing border dispute, and by a change in policy towards India's dispute with Pakistan over Kashmir, and they have reacted accordingly.
"They are also suspicious of China's bolstered military presence in Tibet and of its involvement in infrastructure projects in South Asia with the potential for dual civil military use," it said.
According to the IISS: "India sees these as an attempt to contain and encircle it strategically, while China gains permanent access to the Indian Ocean for the first time, through the Chinese-built port of Gwadar on Pakistan's Baluchistan coast".
The report said India is concerned that new Chinese roads, rail lines and airports near the two countries'' 4,000 km de facto border will provide China's armed forces with enhanced access to the region.
The London-based think tank said India has nearly finished raising two new mountain divisions of 36,000 troops each.
Two new battalions of Arunachal Pradesh and Sikkim scouts, comprising 5,000 locally recruited troops, are also being raised, with plans for a new mountain strike corps and a third artillery division for the area.
Meanwhile, it said the Indian air force has begun to deploy two squadrons of Su-30MKI aircraft to Tezpur air base, close to the LAC with China. India is also upgrading six airstrips in Arunachal Pradesh, as it has already started to in the Ladakh region of Jammu and Kashmir bordered PoK, the report said.