Mercosur claims EU is willing to continue negotiations, but requests more time
Tuesday, March 15th 2011 - 23:49 UTC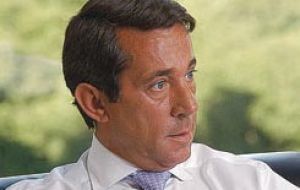 Mercosur was prepared to listen to proposals on liberalizing trade, but the European Union requested more time and continue working with the negotiations, according to Mercosur delegates attending the trade talks with EU in Brussels.
"We were ready to listen to verbal proposals from the European Union on products lists, but the EU asked for more time and to keep working in the current negotiations round", revealed on Tuesday Argentina's Secretary for International Economic Relations Luis Maria Krecler.
At the current round the two delegations, divided into special groups are working on different areas such as solving controversies, trade defence and competition, technical obstacles to trade, sanitary and phytosanitary measures, origin rules, market access and competition, among others.
But apparently "we will have to wait to listen to the European official proposal and find out what markets they are willing to open and under what conditions", said Kreckler.
The Argentine delegate said that in effect the European Parliament requested that the European Commission grant no agriculture concession to Mercosur in detriment of EU farmers and their high quality production standards.
"The request exists and it makes negotiations more complex", admitted Kreckler.