Fed leaves rates unchanged with the US economy on a 'firmer footing' recovery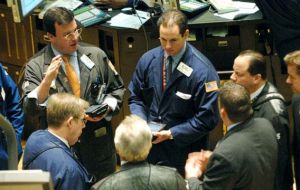 Arguing that the US economic recovery is on a firmer footing, and overall conditions in the labour market appear to be improving gradually, the Federal Reserve on Tuesday left interest rates unchanged at a record low of zero to 0.25% since December 2008.
The Fed also said it would continue with the 600 billion Treasury bond-purchase plans to strengthen the US economy. The vote by members of the Federal Open Market Committee was unanimous. However the Fed made no mention of Friday's earthquake in Japan, and how that might affect the global recovery.
"Commodity prices have risen significantly since the summer, and concerns about global supplies of crude oil have contributed to a sharp run-up in oil prices in recent weeks. Nonetheless, longer-term inflation expectations have remained stable, and measures of underlying inflation have been subdued", said the FOMC in its statement following Tuesday's meeting.
The Fed says that recent increases in the prices of energy and other commodities are currently putting upward pressure on inflation, but FMOC "expects these effects to be transitory" and continues "to anticipate a gradual return to higher levels of resource utilization in a context of price stability".
"To promote a stronger pace of economic recovery and to help ensure that inflation, over time, is at levels consistent with its mandate, the Committee decided today to continue expanding its holdings of securities as announced in November. In particular, the Committee is maintaining its existing policy of reinvesting principal payments from its securities holdings and intends to purchase $600 billion of longer-term Treasury securities by the end of the second quarter of 2011. The Committee will regularly review the pace of its securities purchases and the overall size of the asset-purchase program in light of incoming information and will adjust the program as needed to best foster maximum employment and price stability".
Finally the FOMC anticipates that economic conditions, "including low rates of resource utilization, subdued inflation trends, and stable inflation expectations, are likely to warrant exceptionally low levels for the federal funds rate for an extended period" .