US, UK, France prepare to implement UN Security Council no-fly zone over Libya
Friday, March 18th 2011 - 04:05 UTC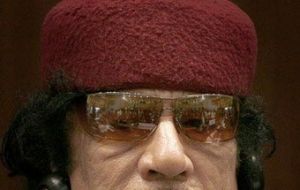 United States President Barack Obama called his British and French counterparts on Thursday and the three agreed Libya must comply with a new U.N. Security Council resolution, the White House said.
Obama, British Prime Minister David Cameron and French President Nicolas Sarkozy also agreed that violence against the civilian population of Libya must cease.
They agreed to coordinate closely on the next steps and to continue working with Arab and other international partners to ensure the enforcement of U.N. Security resolutions on Libya.
The Security Council voted on Thursday to authorize a no-fly zone over Libya and "all necessary measures" -- code for military action -- to protect civilians against leader Muammar Gaddafi's forces.
The resolution, however, excluded "an occupation force" in Libya. The resolution was adopted with 10 voting in favour and five abstentions (Brazil, India, Germany, Russia and China).
Under the UN Charter, the adoption requires nine votes from the 15 Council members and the absence of a negative vote by any of the five permanent members: Britain, China, France, Russia and the US.
China and Russia, the two permanent members with veto power on the Council, abstained from the voting on the draft resolution, which was presented by France, Lebanon, Britain and the US. Lebanon is one of the 10 non-permanent members of the Security Council.
The Security Council 'decides to establish a ban on all flights in the airspace of the Libyan Arab Jamahiriya in order to protect civilians', the resolution said.
The resolution 'demands the immediate establishment of a ceasefire and a complete end to violence and all attacks against, and abuses of, civilians'.
The resolution also stepped up sanctions against Libya, including a freezing of assets of the Central Bank of Libya and the Libyan National Oil Company.
The vote happened only hours after a blood-chilling threat from Col. Gaddafi. "It's over. We are coming tonight," the Libyan leader told the residents of Benghazi on Thursday night in his latest rambling television broadcast. "We will find you in your closets; we will have no mercy and no pity."
But shortly after the United Nations resolution passed, Tripoli was talking of a ceasefire with the rebels. "We are ready for this decision, but we require an interlocutor to discuss how to implement it," deputy foreign minister Khaled Kaaim said at a news conference. It may be too little too late.
In Benghazi, the eastern city where the Libyan uprising was born, joyous residents thronged the main square, cheering the protection of a Western-led air armada, capable of wreaking immense destruction on the Libyan forces.