Falklands reports grounding of a pod of 400 pilot whales
Saturday, March 19th 2011 - 22:54 UTC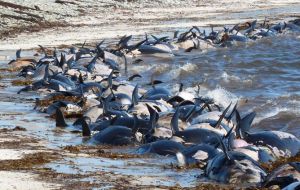 A record grounding of an estimated 400 pilot whales was reported this week in the Falkland Islands.
The pod of whales apparently died after becoming stranded on the uninhabited Speedwell island to the south west of East Falkland and were discovered by Christopher May a local sheep farmer.
Chris May told Mercopress he discovered the stranded whales around 12 March when he visited his sheep farm on Speedwell Island to the south of East Falklands.
He estimated that they had been dead for around 10 days, when he discovered the unaccountable incident which scientists have long attempted to diagnose.
He twice counted the whales and reached 400 each time.
Chris May said that unusually many of them were 'floating' dead in the water.
The larges of the whales were between 20-25 feet and the smallest around 5 feet in length.
There are now thousands of giant petrels enjoying the unexpected feast and it will provide food for them for several months.
Chris May also said that as the whales are beginning to decompose the smell is becoming unbearable.
A team from Falklands Conservation was scheduled to visit the island to gather information and make a report on the situation.
Speedwell Island has an area of 51.1 square kilometres and is about 17.5 kilometres long from north to south and 5 km wide at its central part.
It is generally low lying and has been used as a sheep farm for more than a hundred years. It is separated from Lafonia (East Falklands) by the Eagle Passage, which takes its name from Speedwell Island's old name.
The island is the largest of the Speedwell Island group, which includes George Island, Barren Island and Annie Island.