Moyano suspends strike, threatens the press and says workers want to share power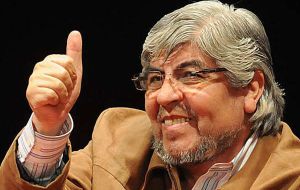 The head of Argentina's powerful CGT Labour Confederation Hugo Moyano suspended the national strike and demonstration that was going to be held on Monday, but warned the government that their aim is to take the workers to "power."
The strike was declared in protest against the Swiss Attorney General investigations into union leader Moyano and his family alleged for money laundering. However on Friday the Swiss Attorney Office announced it was effectively conducting an investigation against unknown persons, but Moyano and his son "were part of the investigation".
"Now you can see that we are more than the ones that criticize us, those who appear at television programs, I really appreciate your support, but we will suspend the strike" Moyano assured during a press conference after receiving the CGT's support for Monday's strike.
Nevertheless, he warned that he will not "accept anymore the lies and fake accusations that the union receives every day," and added that "this fight does not end here, the workers' fight does not end with a victory or failure, the workers fight is constant."
Moyano whose support for the Kirchner's couple has been crucial is now pressing President Cristina Fernandez for the vice-president post in her presidential re-election ticket for the coming October election.
In his speech, the union leader rejected the Swiss and Argentine Justice's accusations, assured he has nothing to do with recent incidents where his name surfaced and blasted the press, which he accused of acting "with a non-limited wickedness" to turn the union leaders into "serial killers."
"We workers want to reach power and this fact annoys many people, but that's our aim and we will not desist," Moyano continued.
Before Moyano's announcement, the CGT board had reported their "support" to the strike that was going to be held on Monday.