Fearing social unrest, Beijing bans "hedonistic, high-end" lifestyles advertising
Monday, March 21st 2011 - 19:11 UTC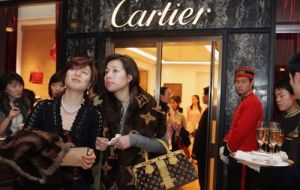 China's capital has banned outdoor advertising that promotes hedonistic or high-end lifestyles as the government seeks to ease public concerns about the country's widening wealth gap.
The Beijing Administration for Industry and Commerce said in a recent statement that businesses were given an April 15 deadline to rectify such ads, along with any that excessively promote "foreign" things. Such promotions help create a politically "unhealthy" climate, it added.
It gave no details on which "foreign" things were deemed objectionable. Violators could face fines of up to 30,000 Yuan (4,600 US dollars), the state-run China Daily said Monday.
Newly forbidden words include "supreme", "royal", "luxury" or "high class", which are widely used in Chinese promotions for houses, vehicles and wines, it said.
Authorities in the south-western mega-city of Chongqing last week issued similar rules that barred real estate advertisements from using phrases including "best", "unique" or "irreplaceable".
Chinese officials are struggling to cool criticisms over a widening income gap at a time when high inflation has put economic pressure on the country's hundreds of millions of low-income farmers and industrial workers.
Premier Wen Jiabao said earlier this month that "resolving unfair income distribution" would be a major objective under a 2011-2015 state economic plan.
The Chinese luxury goods sector is set to become the world's largest by 2015, as rising affluence, urbanisation and increasing competition stimulate demand. McKinsey surveys 46,000 Chinese consumers each year, and combined these figures with a poll of 1,500 luxury buyers in 2010, alongside modelling data.
The consultancy reported that the luxury industry had a turnover of 12 billion US dollars last year and should hit 27 billion by 2015, at which point China is expected to surpass Japan as the biggest outlet for premium products.
On this date, 20% of global luxury revenues are drawn from China. The 13million upper middle class Chinese households, earning between 100,000 Yuan (15,213 USD) and 200,000 Yuan a year, represent the greatest growth opportunity.
According to McKinsey this group currently yields approximately 12% of purchases, a total due to strike 22% among the 76m homes falling into such a demographic in 2015.
Some 36% of Chinese shoppers bought exclusive offerings last year, compared with 25% in 2008, indicating a move towards "personal indulgence".