Ireland: EU agriculture commissioner supports strong position against Mercosur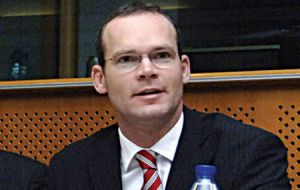 Minister for Agriculture Simon Coveney has pressed Ireland's anxieties about ongoing trade talks with Mercosur with agriculture commissioner Dacian Ciolos who was most receptive to Ireland's position, reports the Dublin media.
On the margins of his first meeting with fellow ministers in Brussels, Mr Coveney told reporters he was concerned about the talks with the Mercosur trade bloc as they had potential to seriously weaken Irish beef markets.
Irish farmers opposed the reopening of the talks last May because any deal would increase beef imports into the EU in return for market access in South America for other European products.
"In many ways we were in the uniquely vulnerable position in comparison to other countries. There's no other country that comes any way close to Ireland in terms of the levels of beef exports," the Minister said.
He added that Mr Ciolos was on 'Ireland's side', but he added 'the commissioner needed more allies'.
Coveney also indicated that the redistribution of Common Agricultural Policy, CAP funds, agreed by EU farmers over the weekend, favours Ireland.
He said he had supported the agreement on the broad approach to CAP reform reached by a majority of ministers on how funding would be reallocated when the policy was reformed.
Mr Coveney said that while he was not happy with every detail in the agreement he felt it had usefully advanced the Irish position in these negotiations. The talks are expected to continue for another two years.
The Minister on a formal to Paris met with his French counterpart, Bruno Le Maire, and they issued a joint communiqué on EU farm policy reform and the Mercosur trade.
This joint approach highlighted the strategic importance of agriculture to their countries and for the future of Europe as a whole. They agreed to work together to ensure the reform of CAP delivered an ambitious policy, "adequately funded to reinforce and develop the strategic importance of agriculture to the EU".