US farmers concerned with Mercosur expanding farm exports to Colombia
Monday, March 21st 2011 - 22:17 UTC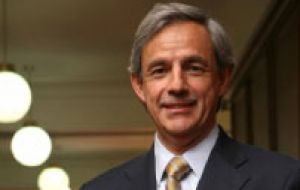 United States farmers have called on the US government to approve the free trade agreements with Colombia and Panama because Mercosur countries are taking a bigger share of US agriculture exports to those countries.
A market study tour from the state of Illinois farmers union was able to see first hand the growing importance of Mercosur grains and oil seeds for Colombia which is the main importer of the region behind Mexico.
US Grains Council Regional Director Kurt Shultz emphasized the importance of congressional approval of the US-Colombia Free Trade Agreement (FTA) in regaining US agriculture exports.
"Our trade with Panama and Colombia is complimentary," said Shultz. "Colombia imports corn, soybeans, soybean meal, wheat, and cotton. They export coffee, cut flowers, bananas, and sugar."
Colombia imports more grain than any other nation in the region outside of Mexico. In 2008, the US had 70% of Colombia's grain import market. By 2009 it had dropped to 38%, and by 2010 it was only 27%.
While the US has a transportation advantage according to Cargill and ADM representatives, the lack of a signed FTA means Mercosur countries have a tariff advantage over US grain.
Each year Mercosur nations take a bigger bite out of US farm exports and by 2014 Mercosur tariffs go to zero.
US market share for wheat, for example, by August is expected to drop when Colombia enters into a FTA with Canada.
According to US farmers Panama and Colombia have pro-business governments and have been long-time allies of the United States. This makes the failure of the US to consider the FTA even more frustrating to Colombian officials.
"The United States has been our most important friend and ally" said Senior Advisor to the Colombian Minister of Agriculture and Chief Ag Negotiator Andres Espinosa. "You are losing market share fast and you will lose almost everything if you don't approve the FTA."
Espinosa went on to tell the group "This will hurt Illinois, because corn is the leading agriculture export".
US corn exports to Colombia fell from 600 million in 2008 to 200 USD million in 2009.
Colombia is among the largest export market for the state of Illinois. Besides Illinois based equipment manufacturers also have a lot at stake. Machinery currently amounts to 28% of Illinois products exported to Colombia.
According to Espinosa, the US has turned its back on Colombia for domestic political reasons.
He feels US labour leaders have continued to oppose the agreement despite significant improvements in human rights and labour provisions.
The US delegation was told by presenters that the FTA with the U.S. includes labour and environmental requirements and the FTA is the best way possible for the US to promote better labour and environmental performance by Colombia.