Paraguay's "sausage-making" foreign policy has a new minister, Lara Castro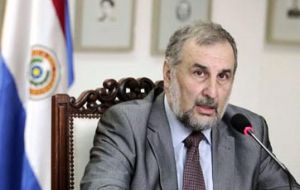 Paraguay has a new Foreign Affaire minister, Jorge Lara Castro who until now was Deputy to Hector Lacognata and who had presented his resignation three weeks ago.
The swearing in ceremony took place Tuesday afternoon and was headed by President Fernando Lugo. Mr. Lara Castro is the third Foreign affairs minister of the Lugo administration. The first was Ambassador Alejandro Hamed Franco.
Lara Castro said the priority of his ministry would be to strengthen decision making in Mercosur and the approval of documents related to the Itaipú power agreement reached in July 2009 but which remains stalled at the Brazilian congress.
The new minister also promised more fluid relations with Congress and the other Mercosur country members.
Lacognata was forced to resign when the Paraguayan media revealed he has a second job as advisor to the Itaipu complex, the world's largest operating hydroelectric plant, which Paraguay shares with Brazil.
Under Paraguayan law elected and political posts, with the exception of teaching are banned from other activities.
However Wikileak cables recently released show that Mr. Lacognata was fed up with his limited influence on Paraguayan foreign policy because "pushing and pulling continues to dominate President Lugo's inner circle".
Several reports to the State Department from Ambassador Liliana Ayalde say that in spite of difficulties Lacognata promised "that Paraguay would play a neutral role in regional politics and would not join Venezuela's 21st Socialism or ALBA initiatives"
In UNASUR, Lacognata promised that Paraguay would continue to play a neutral role along with Chile, Argentina and Uruguay, while Venezuela/Bolivia/Ecuador on one hand and Colombia/Peru on the other polarize the organization".
Regarding some diplomatic events which the US embassy did not understand about "the sausage-making that is Paraguayan foreign policy" Lacognata revealed that Lugo "often changes according to the environment he is in".
Lacognata also vented about Paraguay's lack of strategic planning across the board, and admitted that although he is Foreign Minister, he has little influence over Paraguay's fragmented foreign policy. He said Paraguay has no policy, calling everything "improvised."
He added that in foreign policy actors from the Presidency, Defence Ministry, and ministries and even governors handling international cooperation all have influence, and frequently leave the Foreign Ministry out of the loop.
As examples, he cited Brazil's military exercises on Paraguay's border, which Paraguay's Armed Forces were aware of but did not communicate to his Ministry. Likewise, he complained that Education Minister Riart was in Europe lobbying for increased assistance, but hadn't bothered to coordinate with him.
He said the Foreign Ministry had abdicated influence years ago and that he was working to regain it. He assured Ambassador Ayaldde that "for the square meter of foreign policy I'm responsible for, I'll make sure we have optimal relations".