UK Consumer prices index soars to 4.4% in February; 15 months above target
Tuesday, March 22nd 2011 - 22:51 UTC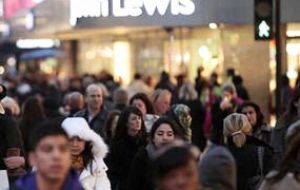 The UK Consumer Prices Index (CPI) annual rate of inflation has risen to 4.4%, up from 4% in January. This was driven by higher food, fuel and clothing costs and was the highest level for more than two years.
Retail Prices Index (RPI) inflation, which includes mortgage interest payments, rose to 5.5% from 5.1% in January, the highest rate for 20 years.
The CPI measure has now been one percentage point or more above the 2% target for 15 months. The overall increase in CPI to 4.4% was more than had been forecast by economists.
The CPI figure is the highest since October 2008, and will put pressure on the Bank of England to lift interest rates to curb accelerating inflation.
The expectation of higher interest rates pushed the pound to its highest level against the dollar in more than a year. It rose 0.5% to $1.639. Against the euro it rose 0.6% to 1.154 Euros.
According to the UK Office of National Statistics, the largest inflationary pressures came from clothing and footwear costs, which rose by 3.6% following the January sales.
Overall transport costs rose by 0.8% between January and February - pushed up by a 1.4% increase in pump prices, following rises in the price of crude oil.
Other contributing factors included rising domestic heating costs, an increase in financial services costs as well as the higher cost of books and toys.
However, alcohol prices fell by 1.1% - a record monthly fall. Spirits fell by 5.8%.
Meanwhile, the ONS also announced that public sector borrowing last month was £11.8bn, a record for the month of February. The official figure was nearly double the £6.9bn forecast by economists.
The increase in public sector spending may mean that Chancellor George Osborne has less room for extra spending when he delivers the Budget on Wednesday.