UK World Heritage tentative list includes sites in three Overseas Territories
Tuesday, March 22nd 2011 - 19:58 UTC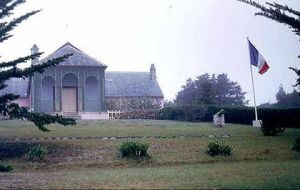 Three Overseas Territories have been chosen to be included as sites across the UK and its OT to form the new UK tentative list for potential nomination for UNESCO World Heritage Status.
Gorham's Cave Complex in Gibraltar, the island of St Helena where Napoleon died and the West Indies islands of Turks & Caicos figure in the tentative list announced by the UK Tourism and Heritage minister John Penrose.
The others are:- Chatham Dockyard and its Defences, Kent, England; Creswell Crags, Derbyshire/Nottinghamshire, England; England's Lake District, Cumbria; Jodrell Bank Observatory, Cheshire, England; Mousa, Old Scatness & Jarlshof, Shetland, Scotland; Slate Industry of North Wales, The Flow Country, Scotland and the Forth Bridge (Rail), Scotland.
Two sites that are being considered by UNESCO already will also join the Tentative List. These are Twin Monastery of Wearmouth-Jarrow, Sunderland and South Tyneside, England and Darwin's Landscape Laboratory, Kent, England.
The move was being welcomed in heritage circles in Gibraltar where Gorhams Cave has often been described by the world's leading archaeology as a "Rolls Royce" of sites because of the way in which it has recorded early history. Local expert Professor Clive Finlayson has been intimately involved in that project.
"Few places in the world can match the wealth of wonderful heritage we have available in the UK. The 11 places that make up the new UK Tentative List are fantastic examples of both our cultural and natural heritage and I believe they have every chance of joining famous names like the Sydney Opera House and the Canadian Rockies to become World Heritage Sites," said Mr Penrose in a statement issued in Britain.