South American countries divided over allied bombings of Libya
Wednesday, March 23rd 2011 - 02:54 UTC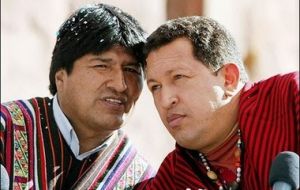 Several South American countries are demanding an immediate cease fire in Libya and questioning the intensity and extensive bombing by an alliance of NATO strike forces of several cities under Colonel Muammar Gaddafi' control.
Others however support the NATO, which means that so far no regional organization (Mercosur or Unasur), has adopted or even tried drafting a joint resolution on the issue.
When the crucial vote last March 17 at the UN Security Council, Resolution 1973, which imposed the 'no-fly' zone over Libya (opening the way for the bombing), Brazil (together with permanent members Russia, China and India and Germany) abstained, while Colombia was among the ten votes supporting the decision to intervene.
However over the weekend Brazil called for a cease fire to protect the lives of Libyan civilians and insisted on an immediate dialogue between Gaddafi and the rebels to restore peace.
Earlier this week President Rafael Correa said Ecuador rejected point blank the military intervention" and added that "a majority of world countries are not saying a word fearing the consequences and preferring to be seen as supporters, but Ecuador has long overcome servility".
Correa also called on Unasur to establish position on the Middle East crisis, not only Libya, basically because "it's the peoples of Middle East that must solve their problems with no interference from foreign powers, much less militarily".
Bolivia's leader Evo Morales suggested that the United Nations change their name to "organization of invading nations". Morales called for "an immediate cease of the military aggression against Libya" and demanded that a commission from "the UN, the Arab League, the African League of Nations mediates to find a peaceful solution to the conflict".
Morales also called the Security Council an "insecurity council" arguing they use any pretext "to invade and take over countries' resources"•. He also questioned President Barack Obama who he said does not deserve the Peace Nobel Prize.
"How is it possible that a Nobel Prize promotes an invasion, this is common crime", said Morales.
Argentina also criticized the NATO offensive against Libya's Gaddafi saying that "all possible diplomatic resources had not been exhausted" when the military action took place. He added that this is "quite evident from the first results of the military intervention".
For his part Sebastián Piñera said Chile fully supports the military action taking place in Libya. "A person that has bombarded his own people does not deserve to govern that people" Piñera said standing next to President Obama during the US leader's Monday visit to Chile.
Uruguay's president Jose Mujica rejected the Libya bombings by the international coalition saying it's an "inexplicable contradiction".
The former guerrilla leader and nationalist-pragmatic president said the situation represents a back step for the current international order, and "medicine is worse than the sickness: bombing to save lives of people; what a pitiful situation".
On Sunday Uruguay's ruling coalition Broad Front condemned the UN Security Council resolution, demanding respect for the "self determination of peoples and the non interference in country's internal affairs". Nevertheless last week Uruguay's Foreign Affairs minister Luis Almagro supported Resolution 1973.
In February the Uruguayan government made public a statement condemning (Gaddafi's government) "violence against the Libyan people" and called for a "constructive dialogue" in the framework of respect for human rights and democratic principles.
Paraguay regretted the UN weakness for not having impeded the use of force in Libya. Foreign Affairs secretary Jorge Lara Castro, who was sworn in Tuesday, said that allied bombing "reflects UN weakness, particularly at the Security Council". He added Paraguay strongly supports peace talks since violence and the use of force only makes things worse.
On Sunday the former Foreign minister Hector Lacognata had to come out saying Paraguay condemns all forms of violence and sponsors a peaceful, harmonious solution born out of dialogue between the sides in conflict. Lacognata however also had to explain what President Lugo really meant when during a political rally, he condemned the United Nations for allowing the bombing and openly supported Muammar Gaddafi.
Lacognata said that those words were "a personal opinion" from Citizen President Lugo because Paraguay condemns violence in all its forms and only supports a peaceful, political, dialogue solution to the conflict.
The position of Venezuelan President Hugo Chavez from the very beginning was very clear: he refused to condemn Libyan leader Gaddafi and warned that "the United States was preparing an invasion of the North African country to seize control of its oil reserves".
"We must be prudent. We know what our political line is: We don't support invasions, or massacres, or anything like that no matter who does it. A campaign of lies is being spun together regarding Libya," said Chavez.
"I'm not going to condemn him (Gaddafi)," he said. "I'd be a coward to condemn someone who has been my friend".
Finally Peruvian President Alan García applauded the military intervention in Libya and stated that "it is demonstrating that International Law is fundamental to the coexistence of peoples."
"We salute the United Nations and the governments of the United States, France, and Great Britain, who have gone to the aid of the Libyan people" García said.
He added that there should be no hesitation in confronting "dictators that remain in office indefinitely, using re-election to govern for decades contrary to the will of the people."
García recalled that Peru was the first country to sever diplomatic relations with the Libyan government and that the country had also proposed a no-fly zone to the UN in order to protect civilians in Libya.