Guatemala's First Couple divorce so First Lady can bid for the presidency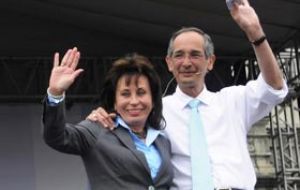 Guatemalan President Alvaro Colom and wife Sandra Torres have filed a request for "divorce by mutual consent" to allow the first lady to run in September's presidential election, the judiciary this week.
"The request for divorce by mutual consent was presented on March 11" and will be handled by family court Judge Mildred Roca, Supreme Court spokesman Edwin Escobar told reporters.
Courts must rule on a petition for divorce by mutual consent in less than one month.
If the pair is declared to be divorced and the court's ruling stands, Sandra Torres will have circumvented the constitutional article that says that the spouse of the president may not run for the presidency.
Article 186 of the Guatemalan Constitution prohibits the immediate – and many other – relatives of the president from vying for the presidency.
So far, neither Colom nor his wife has made any statement with regard to the divorce petition, a strategy that had been put forward weeks ago in an unofficial manner by members of the parties supporting the first lady's candidacy.
Torres announced on March 8 her decision to become a presidential candidate for a coalition of the ruling UNE party and the Great National Alliance.
Colom said three weeks ago that the legal separation from his wife to allow her to run for president was not an option. Colom and Torres have been married since February 2003.
However the announcement has not gone with out criticism. Guatemala's main Bussiness, manufacturing and agriculture association described the situation as "regretful" and the Catholic Church and several evangelic organizations "deplore" such a divorce which puts political ambitions ahead of the family.
Elections are scheduled for next September and hopefuls must register by May 3.