IMF mission travels to Argentina in April to help design a new national CPI
Friday, March 25th 2011 - 01:06 UTC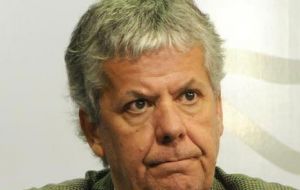 The International Monetary Fund said Thursday it will send a team to Argentina again next month to continue work on revamping the government's discredited inflation measure, and will provide specific recommendations.
"The Argentine authorities and Fund staff have agreed that the second technical assistance mission to advice on a new national consumer price index (CPI) will take place on April 4-11," IMF Western Hemisphere Department Director Nicolas Eyzaguirre, said in a statement.
"Fund staff plans to leave a report with the authorities that will include specific recommendations concerning the design and methodology for developing a new national CPI," he said.
An IMF mission first visited Buenos Aires in mid-December to advise the national statistics agency INDEC on the design and methodology of a new national consumer price index.
The country has a series of inflation indices for each province. The most widely followed is that of Buenos Aires city and outlying areas, home to a third of the nation's 40 million inhabitants.
This index, which is widely used for measuring other economic data, rental contracts and wages, came under question after a shakeup at the national statistics agency INDEC in 2007. The government replaced the head of the agency reportedly after she refused to manipulate data to show lower inflation.
The government still is thought to be fiddling with CPI so it can pay less on inflation-indexed debt, which makes up about 40% of outstanding bonds. Most economists say official CPI is running 15 percentage points below their forecasts.