Repsol divests another 6.67% of its stake in Argentina's YPF
Saturday, March 26th 2011 - 08:33 UTC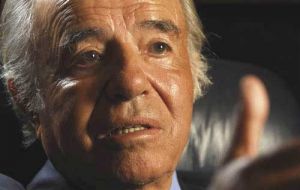 Spain's main oil company Repsol has listed 26.21 million shares of YPF on the New York Stock Exchange for 1.08 billion US dollars as part of a plan to divest its stake in its Argentine unit.
The shares, which represent 6.67% of the company's total stock, were listed at a price of $41 each, Repsol said in a regulatory filing.
The banks underwriting the share offering also have been given the option of acquiring 3.9 million additional shares, which expands the offer to 7.67% of YPF stock.
The per-share price values YPF at some 16 billion USD, while the 26.21 million shares listed represent an increase from a previous announcement on March 14 that the public offering would consist of 24.27 million shares.
The change was due to higher demand.
Also on March 14, Repsol agreed to sell 3.83% of YPF to Lazard Asset Management and other investment funds for 639 million USD.
That deal had priced YPF at $42.40 per share.
Following these transactions, Repsol will control 68.2% of YPF, while Argentina's Grupo Petersen, owned by the local Eskenazi family, will continue to hold 15.46%.
Grupo Petersen also has the option of purchasing an additional 10% in YPF by March 2012.
Repsol acquired a 98% stake in YPF in 1999 amid a wave of privatizations under the government of then President Carlos Menem, but has since looked to reduce its holdings in the firm as it pursues better growth opportunities in other markets.
The Spanish company has said it wants to lower its stake in YPF to just over 50%.