Colombia and Peru closer to implementing the free trade agreement with the EU
Sunday, March 27th 2011 - 05:18 UTC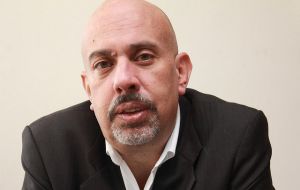 Negotiators from the European Union, Colombia and Peru have signed the final texts on an association agreement with a free trade chapter designed to increase commerce between the Andean countries and the European bloc, it was reported Friday.
The agreement will initiate "a new framework of bilateral relations of trade and investment between the EU and the Andean countries" said the European Commission in a communiqué.
The signing took place after the legal review of the wording of the pact, which was first stamped May 2010. Following this step, a further process of translation and official approval will take place before a final signing for the FTA to become effective as soon as possible. Both sides are hopeful this will be in the first half of 2012.
According to sources in Brussels, the agreement will offer new possibilities of market access for the EU, Colombia and Peru economic agents. The same sources said that the pact will "take into account" the different levels of development of the countries involved and includes a section on cooperation aimed at promoting competitiveness and innovation, and the facilitation of the transfer of technology
In the section on agriculture, EU agreed to extend Colombia and Peru preferential treatment for the export of bananas.
It was agreed that there would be greater access for Colombian sugar, alcoholic beverages, and dairy and pork products to the EU market. Similarly the EU will be able to sell dairy produce and hams in Colombia.
Colombian dairy producers protested against the signing of the agreement amid fears that they would not be able to compete with EU dairy producers who receive large subsidies. NGOs and civil society organizations also protested on the grounds that Colombia does not meet human rights standards.
Earlier this month, 200 organizations signed a manifesto requesting the EU strike down the FTA.
The proposed agreement, which still needs to be ratified by the European Parliament, and there are growing concerns from Social Continental Alliance (ASC) which describes the partnership "asymmetric."
"The treaty inhibits the ability of states to promote policies of economic and social development," Enrique Daza said during the presentation of the manifesto in Brussels.
Daza warned of the "destruction" of Colombia's rural economy saying the agreement endangers 200,000 families that currently rely on the production of milk to survive.
"The peoples of Latin America are at a serious disadvantage with the treaty," he concluded.