Falklands' oil equipment arrives in vessel with giant computer-controlled kite
Monday, March 28th 2011 - 04:49 UTC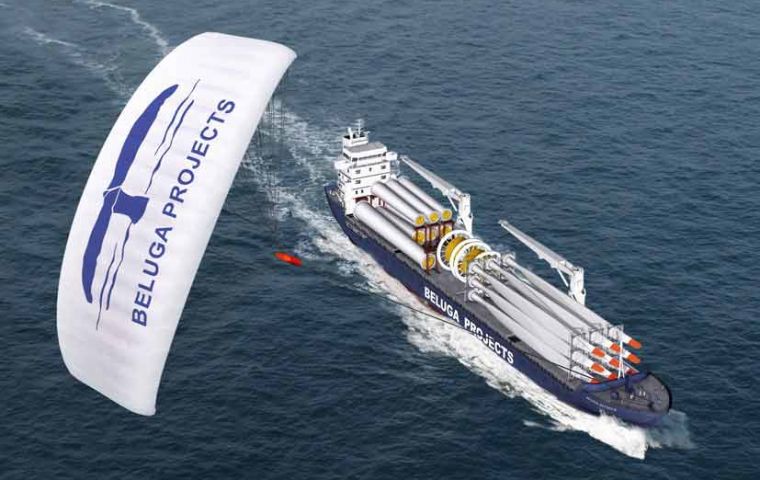 One of the strangest ships ever to visit the Falkland Islands this week lay at anchor in Port William after making a hasty departure from FIPASS. Had it not left the dock, an ongoing legal wrangle involving its owners could have caused it to be detained there indefinitely – rendering a significant proportion of FIPASS unusable by other vessels, perhaps for a very long time.
The German owned 433ft MS Beluga SkySails looks like any other modern container ship, but a strange stumpy mast on its foredeck is a clue to the fact that this is the world's first ship partially powered by a giant computer-controlled kite, similar to a huge paraglider, of up to 600 square metres (6,500 sq ft).
The kite is attached to the ship by a rope system and is deployed from an automatic pod.
The system can control the kite at heights between 100m and 500m to maximise the benefit of the wind which, at such heights, is more constant than at sea level.
With the price of oil at its present high, it is estimated that the system, which can be potentially retrofitted to any ship, could save an average 87m cargo ship nearly €300,000 a year.
The Beluga SkySails arrived in Port William on Saturday March 12 carrying some 5,000 tonnes of oil and gas equipment for Rockhopper Exploration, which it began to discharge at FIPASS the following day.
But while it was in the Falklands, the Chief Executive Officer of Beluga Shipping was accused of fraud and the company, along with subsidiary Beluga Chartering, filed for bankruptcy protection due to alleged financial irregularities in their published figures.
The fear from the Falkland Islands point of view was that the parent company might be unable to pay its creditors, rendering the vessel effectively ownerless, and a court might then issue a detaining order which would require it to remain tied to the FIPASS dock.
When the Russian Academy of Science owned cruise ship Akademik Ioffe was detained in the Falklands in the 1990s because of unsettled debts incurred at a German shipyard by a sister ship, it was some months before she was allowed to go on her way.
At the time of writing, Beluga Sky Sails was still awaiting its fate.
Lewis Clifton of Byron Marine told the Penguin News he had heard rumours of new owners but, if this was the case, they had so far failed to make any comment with local agencies. (PN).-