Rousseff and Lula da Silva together in Portugal 'day-after' Iran vote
Monday, March 28th 2011 - 01:15 UTC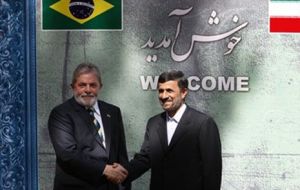 Brazilian president Dilma Rousseff and her predecessor Lula da Silva will be meeting this week for an international event in Portugal, just a few days after the new government abandoned a pro-dialogue with Iran position for a more neutral stance.
Rousseff will be attending next Wednesday the ceremony where Lula da Silva will be awarded a Honoris Causa degree from the University of Coimbra, one of the oldest in Europe.
It will be the first time both leaders will be seen in public sharing the stage since Ms Rousseff took office January first.
Last week Brazil voted next to Washington at the UN Human Rights Council, supporting the creation of a special rapporteur for the human rights situation in Iran.
Celso Amorim who was Foreign Secretary with Lula da Silva has already criticized the Brazilian vote since it will interfere with the chances of dialogue with the Teheran regime and complicate Iranian-Brazilian relations.
The Iranian parliament claimed that the new Brazilian government succumbed to pressure from Washington.
Before ending his mandate in 2010, then President Lula da Silva opposed a proposal from Washington censuring Iran on the human rights issue.
Actually the Brazilian position was more neutral than in support of Washington from the moment it voted for the rapporteur arguing the main issue is human rights violations particularly those countries that still impose the death penalty, which obviously also includes the US.
Furthermore Lula da Silva in spite of being specially invited was absent from the banquet offered last weekend to visiting US president Barack Obama by president Rousseff. The following day the Brazilian leader met with Arab community representatives in Sao Paulo and criticized the US policy towards the Middle East.
The Brazilian opposition hailed the vote on Iran saying it was a return to the "neutral tradition of Itamaraty" opting for a "mature" relation with Washington and taking distance from dictatorships such as the Teheran regime.
"It was an unequivocal distancing and managed with great ability" said former president Henrique Fernando Cardoso.
Lula da Silva interviewed by Folha de Sao Paulo said that the creation of a human rights rapporterur for Iran "is important…Brazil voted correctly…Brazil voted for an auditing". He added that in 2010 "there was no such vote, the rapporteur vote was this week".
Sources from the Workers Party denied that the Iran vote had caused a rift between President Rousseff and her mentor mentioning the Folha interview. They also recalled that both leaders were against the military offensive in Libya.
"Gaddafi is wrong in attacking his people but the US and the French are bombing civilians: that's unacceptable", said Lula da Silva.
The presidential office added that during the coming trip to China in two weeks time, Ms Rousseff will assess the Libyan situation with her BRIC counterparts, none of which (Russia, India and China) support the bombings and attacks speared by the US, UK and France against Libya.