Brazil calls on IDB to speed the planned 70 billion US dollars capitalization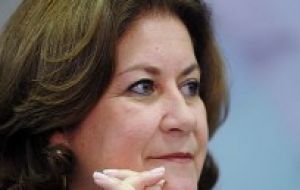 Brazil's Planning Minister Miriam Belchior pressed the Inter-American Development Bank, IDB, to move quickly with its planned 70 billion US dollars capitalization to expand the reach of projects in Latin America.
The bank, which last year approved the capital increase, is counting on the additional funds to double annual lending to 12 billion USD.
Brazil has received or will receive a total of 13.3 billion from the IDB, including 1 billion passed on to Brazil's own development bank BNDES, for projects such as building roads and cleaning up rivers.
"The current dimensions of the IDB have become too small for the current needs of our region," Belchior said during the bank's annual meeting in Calgary, Canada, according to the text of prepared comments.
"Because of this, the approved capital increase, which was already smaller than necessary, shouldn't be delayed any longer, under penalty of--involuntarily--compromising the institution's relevance."
The bank's vice president for private sector operations, Steven Puig, said over the weekend he is "confident" the bank will be able to raise the 70 billion USD and added that the IDB doesn't see the need to resort to a "plan B" in case the plans fall through.
The bank expects lending to the private sector to accompany the overall increase in lending, with loans topping 3 billion by 2015 from 1.4 billion in 2010.