Argentina honours Chavez with press freedom award for fighting "media monopolies"
Wednesday, March 30th 2011 - 05:14 UTC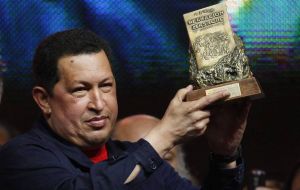 Venezuelan President Hugo Chavez was given a press freedom award during his visit on Tuesday to Argentina. The University of La Plata said it was honouring him for his efforts to break "media monopolies" in Latin America and support "popular communication".
The award has angered critics who accuse Mr Chavez of stifling opposition media in Venezuela. The university said it was giving Mr Chavez the Rodolfo Walsh award for "his unquestionable and authentic commitment to defending the liberty of the people, consolidating Latin American unity, and defending human rights, truth and democratic values".
Chavez welcomed the honour and told a crowd of students that Venezuela was promoting "a new dynamic of communication and information free from the media dictatorship of the bourgeoisie and the (US) empire".
Since becoming president in 1999 Mr Chavez has set up the Telesur network, which offers a state-funded alternative to private television stations across Latin America. He has also funded a major expansion of state-funded media in Venezuela that support his populist politics.
Chavez has also been involved in a long-running battle with private media companies in Venezuela, who he has accused of supporting efforts to overthrow him. New regulations have forced the closure of many pro-opposition radio and cable television stations, although independent newspapers and websites still operate.
Opposition groups and some media organisations in Argentina and Venezuela have criticised the decision to give Mr Chavez the Rodolfo Walsh prize, which is named after and Argentine journalist who disappeared during military rule in the 1970s.
The head of the the Argentine parliament's commission for freedom of Expression commission, Silvana Giudici, said giving the prize to Mr Chavez was "inconceivable" and "a contradiction".
Referring to the journalism award, Chavez said he is proud to receive it, even though some say "that the dictator Chavez doesn't deserve it."
"One must fight the media dictatorship. The dominant classes always manipulate the communications media and trick the people through powerful psychological campaigns," he said.
Chavez's government forced the opposition RCTV channel off airwaves in 2007 by refusing to renew its broadcast license. The telecommunications agency then ordered cable companies to drop RCTV International last year for refusing to carry Chavez's speeches and other mandatory programming. The government also cited licensing issues in forcing 32 radio stations and two small TV stations off the air.
The majority owner of Globovision, Venezuela's only remaining anti-Chavez TV channel, fled the country rather than be jailed pending a conspiracy trial for keeping two-dozen new vehicles at one of his homes. Guillermo Zuloaga, who also owns several car dealerships, said Chavez ordered bogus charges.
Venezuela still has independent newspapers and web sites, including the newspaper El Nacional, which on Tuesday editorialized against the award.
"That a South American university doesn't know about this grave situation and dares to honour this military leader with the Rodolfo Walsh Prize says much about the destruction of values that the Kirchners have imposed on the Argentine nation. Walsh was a victim of military repression and his example is now stained absurdly," the paper wrote.
Walsh was an investigative journalist who co-founded Cuba's Prensa Latina press agency and later joined Argentina's leftist Montoneros guerrilla group. He died in a military ambush in 1977.
La Plata University Journalism professor Claudio Gomez said in an interview that the faculty decided to award Chavez the prize for "his work for popular communication, for example by creating the Telesur channel. This doesn't mean that we agree with other measures his government has taken against critical mass media."
Dean Florencia Saintout said the university created a new category of the Walsh award for Latin American leaders committed to giving a voice to people who are least heard from, and that she hoped for an open debate about his ideas.
"This prize we are giving is not neutral, it is not aseptic ... you head a profound process of emancipation in Latin America," Saintout said of Chavez.