Chavez praises Argentina's role in UNASUR; signs ambitious trade accord
Wednesday, March 30th 2011 - 05:08 UTC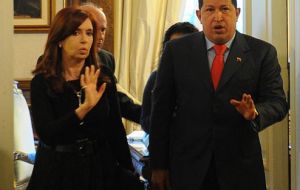 Argentine president Cristina Fernández de Kirchner and her Venezuelan counterpart Hugo Chávez underlined the significance of the Union of South American Nations (UNASUR) during his one day visit to Buenos Aires. Chavez is on a tour of the region that also includes Uruguay, Bolivia and Colombia.
The two Presidents met at Government House Tuesday to sign economic integration and complementation agreements, whilst discussing bilateral ties. The presidential meeting, including several high ranking ministers was in the framework of the third summit of the Bi-National Commission between both countries.
Chávez praised Argentina's role in UNASUR by saying, "from Néstor (Kirchner) to Cristina, the Argentine Government has played a key part in creating an important block in the region of South America". The Venezuelan president also considered UNASUR "vital" for the region.
Cristina Kirchner mentioned that she feels "proud to be part of the UNASUR" group. They both then reaffirmed how important UNASUR has been able to "resolve conflicts" in the region "in peace and without violence".
"When you see the presumably civilized solve affairs by bombings, I feel very proud of belonging to the countries of the region and its organizations", said Cristina Fernandez.
Chavez insisted in the close links and 'unity' of Argentina and Venezuela: "united we are unconquerable: we don't want outside strange elements in the region that come to alter the peace we need".
"Here there is democracy" Chavez said and praised Argentina for having an "open debate just like in Venezuela, and a president who is an absolute defender of human rights and freedom of expression, freedom of the press and freedom of thought."
The two presidents also signed commercial accords dealing with food, transport and energy, and were scheduled to visit a state-run factory where Argentina will build 16 tanker barges for Venezuela's oil industry. However the visit was later cancelled.
Under the agreements Venezuela will import thousands of Argentine cars and 600,000 tons of food and agricultural equipment, representing a 400 million USD investment. Argentine companies will also transfer their technology and help build about 20 factories in Venezuela to manufacture small motors and refrigerators.
In exchange, Venezuela will keep supplying Argentina with oil and purchasing sovereign bonds.
The construction of vessels was first announced in late 2009 and a letter of intent was then signed before both presidents. The hefty order included 50 barges, 10 tug-boats and six loading vessels for a total value of 120 million USD.
After 15 months, the ambitious project has shrunk to a contract for the construction of 16 tanker barges (for the sum of 83 million USD).
The original idea of such a project was to have them navigate the Parana-Paraguay Hidrovía, a waterway connection via the Paraná and Paraguay Rivers which would connect the River Plate estuary, the Argentine Northwest, Uruguay, Paraguay, Bolivia and southern Brazil, to transport Venezuelan oil upstream and sail back downstream with iron ore and soy coming from Bolivia and Paraguay.
But apparently not only the order is far more austere but it will be a long 18 months before the first barge sets to sail.