Argentina promotes world-wide Malvinas discussion under the logo of "It takes two to tango"
Thursday, March 31st 2011 - 01:10 UTC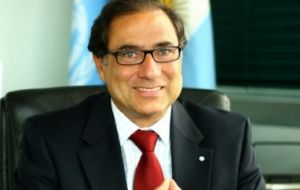 Argentine ambassador before United Nations Jorge Argüello is scheduled to give a conference this week in Bangkok, Thailand on the 'Malvinas Islands issue" and the South Atlantic situation.
Argüello is a guest of the ISIS (Strategic Studies Institute) from the University of Chulalongkorn Political Sciences Department, in the Thailand capital, which is considered one of the most prestigious and oldest of the Asian country.
According to the ambassador's press office the conference is part of the cycle launched by the Argentine UN legation under the name of "It takes two to Tango"
Argüello recently was a speaker at the Jawaharlal Nehru University (JNU) and in Havana's Foreign Relations Institute in Cuba. Last year the conference cycle included Berlin and Columbia University and New School University in the United States.
"These conferences are geared to keep the international community informed about the Malvinas issue with the purpose of making viable the implementation of UN Resolution 2065 which calls on both sides of the conflict, Argentina and the UK to resume Malvinas Islands sovereignty negotiations", said the Argentine ambassador.
He added that "Argentine diplomacy is displaying a clear strategy oriented to generating the appropriate political conditions so that the many UN resolutions referred to our Malvinas Islands become effective".
In his presentation in India Argüello said that the United Kingdom by insistently denying abiding what was decided by United Nations, based on the strong relation that still supports her in the Security Council, is challenging not only Argentina, but also the whole of the international community".
"They (members of the Security Council) have the maximum responsibility in international peace and security affairs. For that reason they enjoy privileges such as the veto power. They should then be the first in abiding by UN General Assembly resolutions. However London for decades has systematically rejected complying with Assembly decisions", said Argüello.
"We will continue with this message and explaining the situation in all world forums. Argentina is particularly active. We need to generate the proper political conditions to resume the Malvinas Islands bilateral sovereignty negotiations with the UK", underlined ambassador Argüello. .