Humala leads in Peruvian presidential race but run-off chances are "unlikely"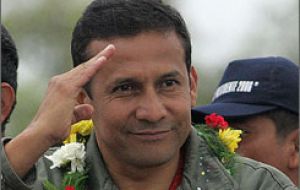 Presidential election races in Peru have a history of being unpredictable. What initially seemed to be a three-way battle to succeed outgoing president Alan Garcia now appears to be a five-way tussle ahead of the first round of voting on April 10 according to a report from Capital Economics.
The emergence of the ultra nationalist centre-left candidate, Ollanta Humala, has spooked the markets, but according to Capital Economics, "we suspect that any fears may be overdone".
Less than a month ago a poll of voting intentions by Ipsos Apoyo indicated that the first round of voting in the presidential election on 10th April was shaping up to be something of a non-event for markets. The former President, Alejandro Toledo, was expected to win 28% of first round votes, while Keiko Fujimori (21%) and Luis Castañeda (17%) looked set to scrap it out for second place and a shot at the run-off.
During their campaigns, all three candidates had pledged to continue the investment-led growth model which has been so successful in recent years and the markets were stable.
But that picture has changed significantly in recent weeks and it now appears to be a five-horse race. Perhaps the biggest surprise is that Ollanta Humala, who lost to Alan Garcia in the second round of the 2006 election, has emerged as a front-runner in the latest polls (he is now expected to poll 23% of votes, up from just 12% last month).
Mr. Humala ran a left-wing nationalistic campaign in 2006, which was endorsed by the Venezuelan leader, Hugo Chavez. Unsurprisingly, perhaps, the markets have been rattled by Mr. Humala's recent ascent in the polls and have sold-off on the back of concerns that – if elected – he would be fiscally profligate and that he would nationalise swathes of the commodities sector.
The Nuevo Sol has depreciated by 2% against the dollar in recent days while the equity market fell by 5% Monday.
Nonetheless, Capital Economics suspect that the knee-jerk reaction in the markets may not be fully justified.
For a start, Mr. Humala is still a long way short of the 50% of votes required to win at the first time of asking. What's more, while he is perhaps less market-friendly than his opponents – he has said that he would look to increase the taxation of mining firms – the reality appears to be that his views are perhaps more centre-left than left-wing extremist. He has been quick to emphasise that he will maintain the current fiscal rule, which caps any public sector budget deficit at 1% of GDP, and maintain the independence of the central bank.
Moreover, he has highlighted the former Brazilian President, Luiz Inácio Lula da Silva, as his role model. Indeed, parallels could be drawn to the market turbulence ahead of Lula da Silva's victory in late 2002.
Either way, it still seems unlikely that Mr. Humala would win in the second round of voting on 5th June.
The other candidate to emerge in recent weeks has been the market-friendly Pedro Pablo Kuczynski. He twice served as Finance Minister under Mr. Toledo during a period when the economy averaged GDP growth of 5.2% and the government's budget moved from deficit into surplus. As a result, 75% of voters still intend to back a market-friendly and so it seems more than likely that one of these candidates will triumph over Mr. Humala in the second round.
The upshot is that the election may ultimately pan out like the vote in 2006 when Mr. Garcia beat Mr. Humala in the second round by 55% to 45%. If that is the case, then all of the recent losses in the markets will probably be quickly reversed.
But even if Mr. Humala wins, a significant shift away from market friendly policies is perhaps less likely than many now seem to assume.