President Cristina Kirchner promises 'to go for more' as her popularity is on the rise
Thursday, March 31st 2011 - 04:04 UTC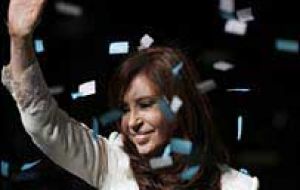 Argentine President Cristina Fernández de Kirchner said at a political rally that she's not the leader of a government but the head of a political project with an agenda and a vision of Argentina, and anticipated she's "going for more".
"We're going for more. We are not going to take one step back. We will never accept anything less than what we've obtained in all these years of work. Hope and faith have returned to all Argentines" said the Argentine leader moving closer to an official announcement she will be running for re-election next October.
The latest public opinion polls show that Cristina Fernandez political image is very strong among voters, well ahead of her potential rivals. According to Ipsos-Mora y Araújo poll, 65% of interviews described the presidential image as 'very good' or 'good'. She was followed by Buenos Aires city major Conservative Mauricio Macri with a 30% positive image. Third ranked are Vice-president Julio Cleto Cobos, who has broken with Cristina Fernandez, and Ricardo Alfonsin, both with 27%.
The opinion poll interviewed 1.200 people in Argentina's main urban centres.
Cristina Fernandez popularity soared last October following the death of her husband former president Nestor Kirchner, and contrary to some forecasts has remained strong.
Political analyst Julio Burdman argues that the President's image is very good because the economy is "performing" extremely well and people are "very satisfied and this is "in most of the country".
Burdman added that the government is acting far more intelligently, "from a political point of view" than it was in 2008 and 2009.
"The year 2009 was a dreadful year in electoral strategy for the Kirchners" since there was an obsession with the farmers' conflict and the confrontation with the media".
"Cristina contains better than her late husband, she's not the spear head, for that she has her son's La Campora youth movement. She is also articulating the whole system mounted by her husband with greater ability" said Burdman.
"The government has ceased to be confrontational and is trying to unify the ruling coalition and dissidents taking as reference the President, and I believe this is the clue for success".
The political analyst said that under the leadership of Cristina Kirchner, the dominant Peronist movement has ceased to be concentrated or identified with certain tendencies, left or right wing, and has again become an umbrella organization that extends from middle of the road to extremist pickets while at the same time capturing many of the governors.
Furthermore Burdman says that with a debilitated opposition, it's hard for the media to play a more decisive role in the campaign leading to October.
This means that currently "we have a competition for the second place, with the runner ups hopeful they can have a chance in a run-off with Cristina Kirchner, but those expectations "are currently becoming more uncertain".
Confirming the President's growing influence in the provinces, a few weeks ago her sponsored governor candidate managed to put an end to the deep entrenched political machinery of the opposition that had ruled a north-eastern province for 20 years.
Similarly in the Patagonian province of Chubut, which was considered an easy win for the incumbent candidate blessed by the dissident Peronist governor, Mrs Kirchner's Victory Front hopeful was barely defeated by 400 votes following an eight-day long recount..