Uruguay's government debt up 5.9% in 2010 but down to 57.9% of GDP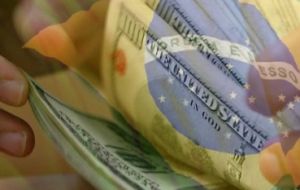 Uruguay's government debt increased both in gross and net terms in 2010, although at a slower rate than in 2009. Overall the debt increased 5.9% (1.3 billion US dollars) totalling 23.185 billion USD which is equivalent to 57.6% of GDP, according to the latest release from the central bank.
Debt growth in 2009 (electoral year and world recession) increased 32.4% and reached 21.892 billion USD which was equivalent to 69.5% of GDP.
Net debt (gross debt minus public sector assets) expanded 12.7% in 2010 (1.4bn USD) totalling 12.6bn USD which means that in 2010 the net debt ratio was down from 35.5% of GDP in 2009 to 31.3% of GDP.
Last year the Uruguayan government also made use of a 2009 bill which allows an annual debt increase of 350 million US dollars plus another discretional 350 million dollars.
Uruguay's gross sovereign debt at the end of 2010 stood at 14.6bn US dollars after having increased 533 million. Net sovereign debt reached 5.694bn, up 948 million over 2009.
The Uruguayan government debt increase last year was associated to greater indebtedness from the Central bank, regional governments and government owned companies, although the central government actually saw a decrease in liabilities.
Central bank debt reached 6 billion USD up 1.36 billion USD from 2009 mainly because of operations to prop the US dollar in the local market, in an effort to impede the fall of the Uruguayan peso and export competitiveness. The central government overall debt was 15.6bn in 2010, down 116 million from 2009.
Meanwhile the US dollar in the Uruguayan money market ended March with a depreciation of 1.57%, accumulating 4.48% in the first quarter of the year. During the month's 21 banking days, the US dollar was down in 13, up in 7 and stable in the rest.
According to analysts February's retail inflation and the wholesale prices index rates anticipating higher retail prices and the Central bank's decision to increase the basic rate 100 points to 7.5% escalated the demand for the Peso and Peso assets in detriment of the US dollar.
The few days the dollar recovered in March was attributed to global markets' concerns with the spreading turmoil in Middle East mainly from Libya to Syria and which now also threatens Bahrain, Kuwait, Saudi Arabia.
The Uruguayan government banks tried to counter the depreciation with strong purchases of US dollars, the highest for a month since last November.