Malvinas are Argentine for ever and "we will never yield in our claim"
Saturday, April 2nd 2011 - 19:36 UTC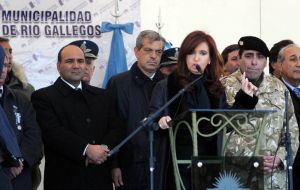 "The Malvinas are Argentine for ever" and this government "will never yield in our claim" promised President Cristina Fernandez de Kirchner during the main commemoration of the Malvinas war Fallen and Veterans Day in Rio Gallegos, Santa Cruz province.
"Argentina will continue to reaffirm its international law right to negotiate the Malvinas Islands sovereignty", she insisted on Saturday which recalls 2 April 1982, when Argentine military forces invaded the Falkland Islands and occupied them for 74 days before being expelled by a British Task Force.
Standing next to national and provincial authorities, and Malvinas veterans in downtown Rio Gallegos, (the political turf of her late husband and former president Nestor Kichner), Cristina Fernandez said "we will continue to reaffirm in all international forums the full force of international law to solve conflicts in abidance with the United Nations mandate for Great Britain to comply with what was mandated by the UN and sits to negotiate with Argentina in the terms so established".
But Cristina Fernandez also made a strong appeal to patriotism and national unity saying that "I know we are going to recover what belongs to us, the Islas Malvinas, but I also know that the best homage to our fallen is this: armed forces and peoples blended together under the flags of our parties and those which bring us all together"
"No country can consider itself a nation if it does not recognize those who made the ultimate sacrifice for the motherland, and it is indispensable that all Argentines learn and understand that the motherland and its rights are above all circumstances and what we have been through".
"It's in democracy where the fortitude of a country can be built to address the great gests", underlined Mrs. Kirchner pinpointing the importance of "national unity" since "whenever our nation was divided it was defeated from outside and from inside".
The Argentine president then criticized UK's pontificating: "on occasions when I've heard some British authorities express concern (about a new attempt on the Falklands) it sounds likes a joke coming from a country that likes solving conflicts by bombing (Libya, Iraq, Afghanistan), and particularly with suggestions against us who only participate in peace missions, and we are an example to the world of non nuclear proliferation".
"Putting the spotlight on us, doubting of our peace intentions and above all our abidance of the law and international law" speaks of outdated colonialism, insisted the Argentine president.
She also recalled that in 1991 her late husband then mayor of Rio Gallegos Nestor Kirchner inaugurated a monument to the fallen in Malvinas in the Santa Cruz capital.
"I believe it was the third monument in the whole of Argentina because at that time the policy was to hide and forget, a de-Malvinization process which begun the same day they brought our brave soldiers back virtually hidden", said Mrs. Kirchner.
Further on she recalled the blackouts during the war period in 1982, when the military dictatorship rule and called to differentiate what then happened, "separate those who ruled at the time under non democratic forms from the very event which was an exercise of national sovereignty and rejection of colonialism which stills shames humanity".
The square in downtown Rio Gallegos where the commemoration of the 2 April 29th anniversary took place is named after Cardinal Antonio Samoré, Pope John Paul II envoy who skilfully in 1978/79 managed a peace and friendship agreement between Argentina and Chile, finally signed in Montevideo, Uruguay.
At the time both countries were ruled by military regimes but in late December 1978 the Argentine Junta decided to take by force some islands in the extreme south of the continent under dispute with neighbouring Chile.
John Paul's personal intervention and appeal stopped the tanks rolling just moments before the battle was scheduled to begin.