Malvinas voluntary soldier letter to be read in all Argentine schools as of 2012
Saturday, April 2nd 2011 - 20:27 UTC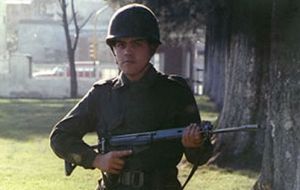 President Cristina Fernandez de Kirchner announced that the letter written by a teacher and voluntary soldier in the 1982 Malvinas War conflict and which he sent to his pupils is to be read in all Argentine schools beginning 2012.
The letter from primary school teacher Juilo Cao, dated 29 April 1982, was dispatched from Puerto Rivero (Stanley) where he had arrived as a voluntary soldier in support of Argentina's long standing claim over the Islands.
On 2 April 1982 thousands of Argentine troops landed in the Falkland Islands sent by the military Junta in Buenos Aires.
Mrs Kirchner made the announcement Saturday during the Malvinas War Fallen and Veterans Day commemoration in Rio Gallegos, the main event of a day full of similar homage all across Argentina.
The short letter was read during the event.
In the letter addressed to his Third year class, Cao apologizes for having left in haste, no farewells, something over which he worried for nights in Malvinas where "I find myself accomplishing my soldier's duty of defending our flag".
"I hope you don't worry much about me because very soon we will be together again, we are going to close our eyes and jump on our huge condor and ask him to fly us to that 'land of stories' that as you know is very close to the Malvinas Islands. And how your teacher knows very well the Malvinas Islands we are not going to get lost".
"Children I want you to know that when I go to sleep at night, I close my eyes and can see each of your small faces smiling and playing; when I fall asleep I dream I'm with you. I want you to be very happy and to study a lot because your teacher who is a solider loves you and misses you".
"Now I'm only asking God to send me back with you soon. Much regards and much love from your teacher that never forgets you".
"Madam I would also like to extend my memories and regards to all the staff: to Mrs Silvana, to Mr. Galo, Cristina, Nora Mercedes, Barbara, Isabel and all the teachers of my shift and from the school. To Mrs Alicia I would like her to know how much I miss her 13.00 hours 'mate' and hope to be soon back sharing it because breakfast here is a kind of boiled mate mixed with construction lime and even cement, and no sugar".
"Having distracted your attention for too long but feeling for an instant next to you, I have decided to conclude these lines with the hope of joining you very soon. With all my love, Julio".