Moyano hails as personal victory the increase by 20% of minimum income tax floor
Saturday, April 2nd 2011 - 08:21 UTC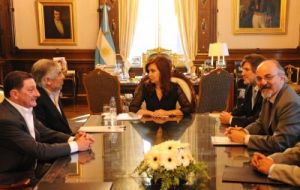 Argentina's powerful organized Labour Confederation leader Hugo Moyano celebrated Friday as a victory for the "workers movement" that the government of Cristina Fernandez de Kirchner decided to raise by 20% the minimum income tax floor.
"We've made a very important step forward", said Moyano, "and it's going to benefit more than 800.000 workers". He arrived for the meeting at Government House with twelve members of the CGT board.
The announcement was made by Economy Minister Amado Boudou after Moyano met with President Cristina Fernández and other officials in the Government House.
Moyano's meeting lasted about an hour and a half alongside the President, Economy Minister Boudou, Labour Minister Carlos Tomada and head of the AFIP tax revenue office Ricardo Echegaray.
Economy Minister Boudou said that the income tax floor increase will be 7,998 Pesos (approx 2.000 US dollars) for married workers with two children, and 5,892 Pesos (approx 1.500 USD) for single workers.
The decision will be published on Monday in the Argentine Official Gazette.
The announcement was made when it was officially informed that tax revenue climbed 31.4% and totalled 37.4 billion pesos in March compared to the volume registered during the same month last year, according to the AFIP revenue office.
The increase has been boosted by the performance of the VAT, the Income tax and Employee contributions, said the office.
Both announcements coincide with the release of the consumer inflation rate for March by private consultants in the range of 2%, with estimates for the twelve months between 25% and 30%.
This is in sharp contrast with the official Argentine statistics office, Indec which admits inflation in 2011 could reach 12%, from below 11% in 2010. Private estimates for last year were in the range of 20% to 24%.