Spain's Prince Felipe recalls Gibraltar at state dinner for Prince of Wales
Saturday, April 2nd 2011 - 20:37 UTC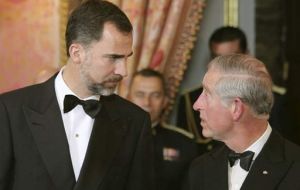 Spain's longstanding claim over the sovereignty of Gibraltar looked destined to continue into the next generation of Spanish politics as the heir to the Spanish throne, the Prince of Asturias, used a state dinner for the Prince of Wales and Duchess of Cornwall to reiterate Spain's desire to 'progress' on Gibraltar.
There were glittering scenes at the Royal Palace of Madrid last Wednesday night as the wives of Britain and Spain's future monarchs sparkled at the state dinner.
In his speech, Prince Felipe referred to - but did not mention by name - the issue of Gibraltar.
After thanking Charles and Camilla for visiting his country, the Prince of Asturias said: "I also express my wish that our authorities make progress towards a solution to our historic bilateral controversy, which is still pending".
Spanish journalists watching the speech from the press room of the Palacio Real said that, for them, it was the headline event of the day.
The Prince of Wales made no mention of the British territory in his speech, which reflected on the nature of Anglo-Spanish ties. He said: "I know that the relationship that exists between the UK and Spain is one of the oldest, deepest and - how can I put it - most intense that exists between any two nations.
"We have at times been bounded by trade, by politics, by Treaty and by marriage. And, at other times, we have been divided by war, by religion and by economic rivalry. But I think I can say without fear of contradiction that throughout the centuries, one thing we have never lacked is mutual respect and admiration, irrespective of the side of the argument on which we have found ourselves"