President Rousseff's foreign policy "will emphasize human rights (South and North)"
Monday, April 4th 2011 - 04:41 UTC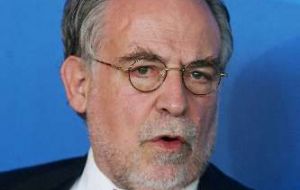 The Brazilian government admitted for the first time that there is some profile changes in the foreign policy implemented by President Dilma Rousseff compared to her predecessor Lula da Silva.
"Are there changes in Brazilian foreign policy? Of course, those changes have been determined not only because of alterations in the world scenario but also because of the different perception which the president has of the country's relation with the world" said
Marco Aurelio Garcia, special advisor to Brazil's president in foreign affairs, who held a similar post under ex President Lula da Silva.
In an interview with O Estado de Sao Paulo, Garcia said that Ms Roussef is giving more emphasis to human rights.
At the latest vote in the Human Rights Council Brazil broke away from the traditional abstention vote of Lula da Silva and supported a US initiative against Iran.
"Lula da Silva always underlined social questions, Dilma on the other hand will keep that sensitivity but wants to emphasizes human rights issues which are linked to her past as a political prisoner (under the dictatorship between 1970 and 1972)" said Garcia.
On the vote in support of a UN human rights rapporteur for Iran, Garcia said that from now onwards Brazil will analyze, case by case, but did not advance or give clues about votes related to Cuba and Israel in the UN forums.
"Our concern is that votes are not selective, not only against the countries in the South (hemisphere), that we can address in a balanced way all situations", pointed out Garcia who underlined that Ms Rousseff is concerned about the situation in Iran but also in the US base of Guantanamo", said Garcia who rejected point blank that former leader Lula da Silva had close links with authoritarian regimes.
"Lula has his style, different to that of Dilma. Nobody criticized the fact that Lula called former US president George Bush 'comrade' when people don't believe Bush deserved such closeness, but they are styles; he also stood next to people who came from the ancient regime (dictatorship) and could stand next to certain international figures".
Garcia added that when the history of Lula da Silva diplomacy's is written, its foundations and principles, the same as with Rousseff they are "good relations with South America, Latin America, Africa, China, India, European Union and the United States".
Garcia admitted that relations with the US had not been smooth: "we had our differences over Iran, Honduras, Cuba, trade and the US bases in Colombia. What did they think that we would remain silent? The overall relation with Washington is good and much criticism come from a time when the relation meant submission, the time when we spoke in low voice to Washington and howled at Paraguay and Bolivia".
"Now we speak the same tome, equal for everybody with everybody", said Garcia.