Source rock and possible shale oil discovered in the centre of Uruguay
Monday, April 4th 2011 - 07:08 UTC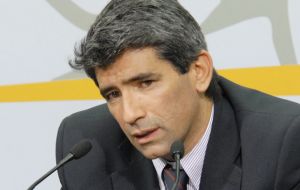 Uruguay state-run oil and gas company ANCAP announced the discovery of source rock which might contain underground shale oil or natural gas deposits.
"It could be nothing or it could be the tip of the iceberg" said Raul Sendic, president of ANCAP, referring to the discovery in Uruguay's central country of Durazno. The rock had "a great amount of organic material, which has possibilities of developing into hydrocarbon" Sendic told reporters.
Argentine, US and Russian companies have expressed interest in exploring the continental territory, Sendic said, adding that ANCAP would intensify its efforts with other companies in exploring for oil in the central and northern parts of Uruguay in the next three years.
Uruguay has already licensed offshore exploration blocks which have been awarded to a consortium made up of Brazil's Petrobras, Argentina's YPF and Portugal's Gal. A second Uruguay round is scheduled for the coming months.
Another member of the ANCAP board, Juan Gomez said that "we could have found free oil, which helps us think big" However "you have to go step by step until you determine clearly that these deposits exist, what quality of oil they have and how much there is to exploit. But we are very optimistic."
Gomes said freestanding oil was found in a water well and in shale deposits just 180 meters below ground. Now ANCAP "will intensify its joint venture with Dallas, Texas-based Schuepbach Energy", experts in exploring for oil in shale deposits.
Uruguay produces no oil and must import about 50,000 barrels of crude a day at world market prices to supply the ANCAP refinery.
Uruguay depends on oil for 50/60% of its energy and is pushing to reduce this dependence by developing wind, biomass and natural gas energy. It also has three hydroelectric dams, and recently announced a joint effort with Argentina to build a re-gasification plant for liquefied natural gas.
Martin Schuepbach, the chairman and chief executive of the exploration company, declined to comment on the size of their investment so far, but he said the find has "very high potential."
"Basically what we have here is world-class source rock and free oil in a water well. These two things are very, very encouraging. It could potentially be very important".