Chile, Colombia, Peru launch integrate stock markets beginning May 30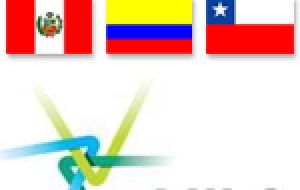 Operations of a joint stock market linking Chile, Colombia and Peru are scheduled to begin May 30. The group, known as the Integrated Latin American Market, or Mila, said Tuesday that the decision was taken following two rounds of successful testing.
On April 15, the companies that will trade on the joint exchange will start to list, Mila was quoted on Dow Jones Newswires.
Last year, Chile, Colombia and Peru said they would merge their stock markets to form one cross-trading platform. The integration was expected to be finished by the end of 2010, but it was postponed.
Officials announced earlier that the new platform will list some 560 companies, combining the listings from each individual country, making it the largest Latin American exchange by number of companies listed and second-largest by market capitalization.
Meanwhile Latin American stocks rose to their highest since June 2008 on Tuesday, but profit-taking in Mexico and signs Chile's rally may be running out of steam could limit gains in the coming sessions.
Investors bet a move on Tuesday by China to tighten borrowing costs would help manage to tame strong growth without undermining high prices for Latin America's key commodities.
"China will keep growing, just at a slower pace," said Gerardo Copca, a strategist at consultancy Metanalisis.
China is Brazil's top trading partner and also one of Chile's top customers for its copper.
Chilean stocks led gains in major regional markets, with the IPSA index .IPSA rising 0.56 percent to close at its highest since late January as industrial conglomerate Copec CPO.SN rose 1.99 percent.
Surprisingly strong growth data in Chile backed bets that the country's stocks could see solid profit growth during the first quarter.