Spain an "insurmountable dam protecting the Euro zone" says Deputy PM
Friday, April 8th 2011 - 17:09 UTC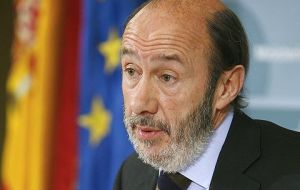 Spain has gone from being "another domino" to "an insurmountable dam that it protecting the Euro zone" due to its tough economic reforms, the government said Friday.
"Everyone says that Spain has carried out the reforms that it had to do, and it's that which makes the situation (in Spain) different" from that in Portugal, Deputy Prime Minister Alfredo Perez Rubalcaba.
"We have gone from being another domino to being a dam, an insurmountable dam, which is protecting the Euro zone, and this has been the result of the reforms that we have undertaken," he told a news conference following a cabinet meeting.
His comments came as EU finance ministers meeting in Hungary thrashed out a multi-billion-dollar debt rescue for Portugal, demanding tough conditions as they try to draw a line under a destabilizing debt crisis.
The pressures on Portugal had raised doubts about other weak Euro zone members including Spain, the Euro zone's fourth largest economy. Any such bailout would be bigger than those of Greece, Ireland and Portugal combined, possibly threatening the whole Euro zone project.
But Madrid, which has enacted stringent budget cuts, and labor, pension and banking reforms so as regain market confidence, is determined not to be the next Euro zone domino to topple.
It is striving to distance itself from the debt woes of its neighbor and close economic partner. "Portugal is a very painful issue for Spain and a country with which we are extremely supportive," Perez Rubalcaba said. But he insisted that "things have changed in Spain in recent months".
Perez Rubalcaba statements follow on praise and a vote of confidence from the IMF chief Dominique Strauss-Khan earlier in the week.
"We have not received any request for help from the Spanish government," Strauss-Kahn told the Spanish daily El Pais.
"I don't believe that the Spanish government needs any type of financial aid," he added in an interview that he also gave to the Washington Post and Italy's La Republica.
"I believe that the policies that the Spanish government has implemented, as much on the fiscal side as in the reform of pensions, the labour market or in banking, are the correct policies," he continued.
"And what I see is that over the last few months Spain has been put in the same bag as other countries, such as Greece, when they are clearly not in the same situation.
"The markets are responding and what should be done is being done. If is difficult for the country and for the government to do the right thing but it is being done."
The markets are still sceptical that Spain, which is struggling to emerge from the economic crisis that hit it in 2008, can get its public accounts in order and re-launch its economy. On March 10 Moody's sliced Spain's long-term credit rating by a notch to "Aa2" and warned it may do so again.