US Congress reaches agreement on budget deal to fund government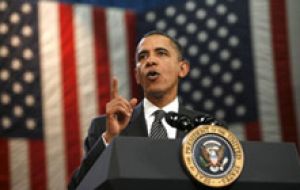 United States congressional leaders have agreed on a budget deal to fund the US government for the rest of the fiscal year, just before a midnight deadline. It will reportedly cut 39 billion USD from the budget over last year's levels between now and 30 September.
Speaker John Boehner said the House would vote on a "bridge" bill to fund government operations into next week, until the deal is ready for passage.
President Barack Obama said the cuts would be painful but necessary. "Americans of different beliefs came together," he said.
Without an agreement by midnight on Friday, the government would have been forced to shut down, barring some 800,000 government employees from working.
Announcing the deal, Mr Boehner, a leading Republican, said: "This has been a lot of discussion and a long fight.
"We fought to keep government spending down because it really will create a better situation for job creators."
President Barack Obama spoke to Senate Democratic Majority Leader Harry Reid and John Boehner in separate phone calls Friday about the budget standoff. He also postponed his scheduled trip to the mid-western state of Indiana.