China plans to invest 10 billion USD in soy production and processing in Brazil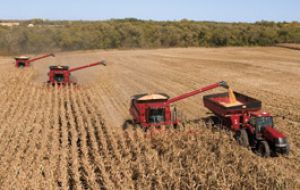 China plans to invest ten billion US dollars in the production, storage and transport of soybeans in Brazil to ensure the supply of the commodity of which it is the world's main importer, according to press reports in Beijing.
The announcement comes only hours before the first official trip of Brazilian president Dilma Roussef to China where she is scheduled to meet with President Hu Jintao and participate at the BRICS (Brazil, Russia, India, China and South Africa) leaders' summit.
The main accord is between Brazilian soybean cooperatives and the Chinese government company Sanhe Hopeful which intends to invest 7.5 billion US dollars in the State of Goias to ensure the purchase of six million tons of the oil seed, which is equivalent to the total production of that state.
According to Folha de Sao Paulo, the Chinese advance is part of a policy to reduce intermediation costs in the world's grains and oilseeds market without buying land which according to the latest Brazilian legislation strictly restricts foreign ownership of land for agriculture and livestock.
The other 2.5 billion USD are to be invested by Chongging Grain in a soybean processing plant in the state of Bahia including a dry port and silos for storage.
China is Brazil's main trade partner since 2009 when it displaced the United States.
The Brazilian delegation in Beijing is expecting Chinese officials to make effective their investment promises to the tune of 37 billion US dollars which were announced on several occasions by the two countries leaders.
Among those investments is the construction of the grid for the Belo Monte hydroelectric dam in the Amazon which has begun to be constructed and is programmed to be the world's third largest behind China's Three Gorges and Itaipú shared by Brazil and neighbouring Paraguay. Electrobras is to work with China's State Grid in the project.
However, according to the Investments coordinator from the Brazilian ministry of Industry, Foreign Trade and Development "the investment boom occurred between 2009 and 2010".
"In 2010 the figure reached 17.7 billion USD" revealed Eduardo Celino.